This is an archived article and the information in the article may be outdated. Please look at the time stamp on the story to see when it was last updated.
WEST MEMPHIS, Ark. — An off-duty Forrest City Police Officer was shot and killed inside his West Memphis home Saturday afternoon, West Memphis Police confirmed.
The shooting happened around 3:30 p.m. at the Meadow Apartments, located on South Avalon Street.
Several children who were outside at the time scrambled to escape as a spray of gunshots rang out.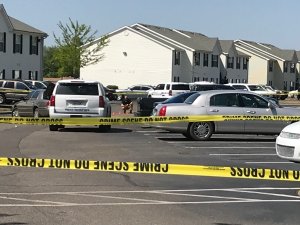 "We just heard about 40 gunshots," Neighbor and family member of the victim, Portia Weatherspoon said.
Weatherspoon says someone in a vehicle drove by and just started shooting.
At least one of those bullets hit and killed off-duty Forrest city officer Oliver Johnson, Jr.
Family members tell WREG he was just sitting inside his home with children, one of those children — his young daughter.
One family member even tried to help by preforming CPR.
Police say they don't believe officer Johnson was targeted as he was just inside his own home.
"It was an encounter between the suspects and another group outside of the apartment," West Memphis Police Captain Joe Baker said.  "This hits everyone a little close to home in law enforcement. He was a police officer, some of my officers did, in fact, know him."
Johnson's family tells WREG he has two daughters and he and his fiancee were planning a birthday party for his youngest daughter in the coming days.
They say officer Johnson was passionate, genuine and cared about those in the community.