This is an archived article and the information in the article may be outdated. Please look at the time stamp on the story to see when it was last updated.
FORREST CITY, Ark. — The man accused of killing a 15-year-old in Forrest City, Arkansas has been identified by police as 29-year-old Christopher Buchanan.
Authorities said Buchanan confessed to his role in Jordan White's murder during questioning. He was charged with capital murder and was arraigned Friday.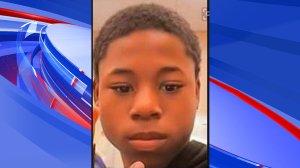 According to the police, the body was found at a Housing Authority apartment complex on Dawson around 8 Thursday morning. A tenant noticed the body face-down next to a bush near the playground and called police.
Authorities said the boy was only wearing a pink hoodie when he was found. They said he did not live at the complex.
However, Buchanan did, and, after following several leads, police were led to the 29-year-old. Police said they searched the man's home and found a bloody hammer and a knife in his apartment.
Police said White had a cut on his neck and a wound to his head.
Buchanan later confessed to killing the 15-year-old, but he said he killed him in self defense. He claimed White tried to rape him.
The child's body has been sent to the crime lab in Little Rock.
On Friday, WREG's Troy Washington obtained Buchanan's criminal history from his time in Chicago and found he has been in contact with police on multiple occasions.
Police said he has been arrested on multiple charges in the past including battery (making physical contact), kidnapping and disorderly conduct.
In February 2011, Buchanan was working as a security guard for the underground train system in Chicago when he was charged with criminal sexual abuse and unlawful restraint after handcuffing and sexually abusing a 17-year-old boy.
According to CBS 2, the boy had tried to sneak onto the train without paying and was reportedly stopped by Buchanan. The teen explained to him that his card wasn't working and started to walk away to go get money. That's when Buchanan allegedly told him to follow him.
The boy said Buchanan led him to a restroom where he handcuffed him and ordered him to the ground. Buchanan then removed the boy's shoes and socks, and rubbed his genitals on the boy's feet, CBS 2 reported.
He then moved to the Mid-South in January. Police said they are not sure what drew him to the area.
Prior to being charged with murder, Buchanan studied criminal justice in college, got a job as a security guard in Chicago — from which he was let go after the incident with the teenage boy — and even applied to work as a police officer in Forrest City once he arrived.