This is an archived article and the information in the article may be outdated. Please look at the time stamp on the story to see when it was last updated.
MEMPHIS, Tenn. — A former Memphian was on stage performing with his band just before the shots rang out in the deadly mass shooting in Las Vegas.
Myron Howell is a professional drummer from Memphis who now lives in Nashville and performs with country singer Jake Owen. He has also played with Justin Timberlake, the Bar-Kays and other artists.
"These shots started firing out and I was like, those can't be fireworks, they don't sound like a transformer blowing up," Howell said.
He says as gunshots filled the air, he brought people around him to where their tour bus was for safety.
"You just hear people screaming, running, grabbing each other, and some folks were running and you could see the shots hit them and they hit the ground. People were getting trampled over. I mean it was just crazy. It was like a movie almost."
Howell says he, his band members and strangers huddled in the bus until 5 in the morning as they called around to make sure everyone was safe.
"All I could think about was start praying and hoping God will make the situation get better and make it happen fast and make it be over."
► Country singer Jake Owen speaks to CBS News about the shooting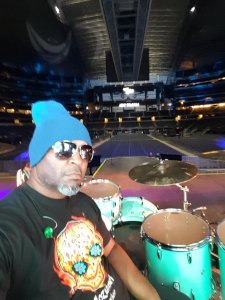 They were then moved to a different area where they gave police statements.
And as they got ready to leave Vegas, Howell described seeing horrifying images.
"As we were walking, we were walking up on people being covered up in the middle of the street, so they were still covering people up as we were walking to the airport."
While the number of fatalities grow, he's hopeful people will come together through this tragedy.
"Don't let one coward stop everybody from coming to this nice city and having a good time. We live in America, the land of the free, and we should live that way."
He says he'll do as much as he can to help out with relief efforts.
Howell says he's not sure what this will do to the band's future performances, but he heard other artists talking about canceling their future tours because of it.