This is an archived article and the information in the article may be outdated. Please look at the time stamp on the story to see when it was last updated.
BRADENTON, Fl. — An officer is at home recovering after a violent confrontation with a robbery suspect.
It all started around 4 a.m. Sunday when Bradenton Police Lt. William Weldon responded to a burglary at a jewelry store. When he arrived, the suspect, 23-year-old Isaac Hernandez Dubon, was still inside the building.
At first, Dubon was cooperating with the officer, but that changed once Lt. Weldon went to handcuff him. That's when the suspect began to resist.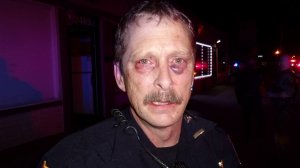 On Wednesday, Lt. Weldon watched the surveillance video from that night, describing every minute of the fight.
"Right there he went after my gun."
Lt. Weldon said Dubon then attacked his face.
"His fingers were going into my eyes sockets," he said. "I was blinded."
The struggle lasted more than a minute and a half. Towards the end, the officer said he was having trouble getting his bearings due to his injuries.
"I was seeing multiple images of him; not knowing where he was at. You see me waving my hand back and forth…I knew where his head was, took the swing."
Lt. Weldon hit Dubon in the head with his gun, and that "was the final blow."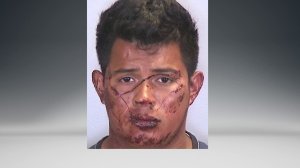 Backup quickly arrived, taking the suspect into custody and getting help for the officer.
The owners of the jewelry store said the lieutenant is their hero.
"We love that guy. We want to meet him," she said. "He was risking his life, he put his life on the line for the community."
Authorities said this was the third time the store has been robbed in the last year. Based on the surveillance camera video, it's possible it might be the same suspect in each case.
During each robbery, the suspect broke in the same way by busting through the glass door.
Dubon is also a suspect in other crimes.