This is an archived article and the information in the article may be outdated. Please look at the time stamp on the story to see when it was last updated.
ST. FRANCIS COUNTY, Ark. — Two semi-trucks plunged off two separate I-40 bridges in St. Francis County only minutes apart, the St. Francis County Sheriff's Office confirms.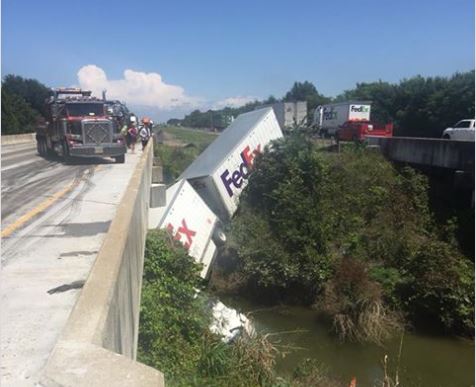 The first  accident involved a FedEx truck,  which crashed into another semi-truck before falling off a bridge, down a grassy embankment, and into Little Bivens Bayou near mile marker 256.
"You could see the truck going down in a big ball of dust," said David Boling, who was driving with his wife to Oklahoma from Jackson, Tennessee at the time.
Boling said he and his wife immediately pulled over and he readied himself for a venture into the water.
"I threw my shoes off real quick and put on some old shoes I had with me 'cause I had on brand new shoes," he said.
Once Boling reached the bayou, he said he saw several other people already trying to get the driver out of the FedEx truck. He said one used a rock to smash open a window, before he and the other men carried the driver out of the truck and hoisted him up the steep embankment.
"We turned him around and hooked the rope on him and there was two of us in the water and then there was some —  some guys were on the bank — and we slid him up the bank," Boling said.
The driver was airlifted to a hospital in Memphis after he was rescued and temporarily lost consciousness.
The Sheriff's Office said he had only minor cuts, while the other semi driver scraped by with no injuries.
Arkansas State Police said the trailer was loaded with paint, but no hazardous materials.
As that was happening, the Sheriff's Office said a grass fire erupted about a quarter-mile away.
"It was burning down the side of the interstate causing trouble over there," said Capt. Eddie Adamson with the Sheriff's Office.
But it was soon extinguished, he said, and never reached any vehicles.
In a separate crash about 45 minutes after the first, another semi-truck driver ran off a different I-40 bridge after suffering a stroke.
The second crash involved a truck registered to CalArk and happened a couple of miles east of the first crash.
The driver was extricated and airlifted to Memphis.
"He was jammed in there pretty tight, we had to move a few things and the people on the outside, people on the inside moving around in real tight quarters," said Adamson.
FedEx acknowledged the first accident in a statement and said the company was cooperating with local officials.
CalArk declined to comment on the second crash.
Traffic was backed up for hours around the sites of both crashes.
UPDATE: This was an unrelated crash. The driver had a stroke. @3onyourside pic.twitter.com/MwuNvNhaPS

— Luke Jones (@LukeJonesTV) August 10, 2018
Wow! 3 incidents total on I-40 in St. Francis County. 2 trucks drive off I-40 in separate incidents, then a grass fire erupts near the first. @3onyourside

— Luke Jones (@LukeJonesTV) August 10, 2018