This is an archived article and the information in the article may be outdated. Please look at the time stamp on the story to see when it was last updated.
GOSNELL, Ark. – Clinton Rushing Jr. said he was horrified when he saw his three-year-old daughter's injuries Monday night.
Blood vessels in her eyes were broken, her mouth was surrounded by bloody bruises and lacerations covered her neck.
"Honestly, I'm surprised she's alive to be real. Like, I don't see how my baby could pull through that," said Rushing.
The girl's mother, Sarah Keeling, and the mother's boyfriend, Anthony Mosley, were arrested Tuesday after Rushing said he got a tip on Facebook that his daughter had been abused and drove to Gosnell from his home in Missouri.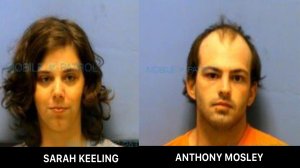 Rushing said Keeling insisted on meeting him at a gas station and wouldn't tell him where in the trailer park on South Air Base Highway she and his daughter were living.
He also said he had difficultly seeing the full extent of his daughter's injuries at first.
"It was dark when we got there and their mother was, the whole time, covering them up," said Rushing.
Rushing said Keeling never explained how his daughter got the bruises, but once he saw them, he said he immediately took her to a hospital in Missouri.
He also noticed his two-year-old son had injuries on his eyes and lips.
He later learned a picture of his badly beaten daughter had begun circulating online, showing her held by an unidentified hand. It's so disturbing, WREG has opted not to publish it.
"I thought he was holding her by the hair, but that's just him holding the head. That's not Mr. Mosley holding that child like that," said Det. Andrew Wyles with the Gosnell Police Department.
Police couldn't say who took the picture, but neighbors at the trailer park said conditions at Keeling's home were less than satisfactory even before evidence of abuse surfaced.
"When I seen the house, it was filthy, really filthy. It's not suitable for no kid or dog," said Tonya Green, who identified herself as Mosley's second cousin.
Equally unsuitable — the weeks in the hospital that lie ahead as doctors attempt a skin grafting procedure as well as the decades of trauma and distrust that may also await the little girl.
"That's gonna haunt her every day and I'm gonna have to work with her every day just to prove to her that not everybody's like that," said Rushing.
Mosley's bond was set at $150,000 and Keeling's at $100,000 when the couple appeared in court Wednesday.
They're set to face a judge again on Friday.