This is an archived article and the information in the article may be outdated. Please look at the time stamp on the story to see when it was last updated.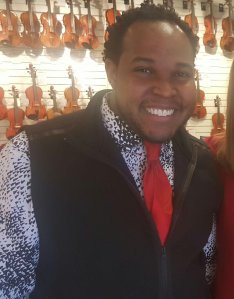 MEMPHIS, Tenn. — It's the murder that broke a sad record for the city of Memphis: 214 homicides so far this year – the most in a single year in more than two decades.
Now, two men are charged in music teacher Chris Waters' killing.
Nicholas Brooks, 22, is charged with murder, and Ladarius Wilson, also 22, is charged with accessory to murder after the fact.
Waters' passion for music was only surpassed by his dedication to his students.
"Probably one of the most passionate music educators we've seen walk through the doors," CJ Averwater, with Amro Music, said. "That was his goal – he focused on the kids and made sure they had the right stuff to make music."
Waters, a music teacher at Belle Forest Elementary School and part-time employee at Amro Music, was found shot to death in his home Friday after he didn't show up for work.
"He was just a good guy," his mother, Lisa Waters, said. "He was my boy, he was my friend."
She says Brooks and Wilson broke into her son's house, allegedly killing him over his wallet and a few electronics.
"I'm mad, I'm angry, I'm bitter, I'm hurt, my heart aches," she said. "I'm going to miss him so much. I don't know what I'm going to do. I am so tired of those type of people ruining other peoples' lives because they don't care about their own."
And even though nothing can bring him back, for Waters' family, seeing justice served would be a good start down the road to healing.
"I hope that they have a lot of time to think about that, sit in jail and think about what they've done," Lisa Waters said.
And maybe some prayers, that time will help with that.
"They say time heals wounds, but we won't get past it, we won't get past it," she said. "I'll think about this every day. From yesterday, I'll think about this every day of my life, I'm sure."
A GoFundMe page has been set up in honor of Waters by his former colleagues at Amro.
All of the money raised will be used to support his passion for music education in the city of Memphis with guidance from the Waters family and Shelby County Schools.
You can donate through the link on Nina Harrelson's Facebook page.