This is an archived article and the information in the article may be outdated. Please look at the time stamp on the story to see when it was last updated.
MEMPHIS, Tenn. -- "I came to the door, she was like 'Help, help!' I came out and called the ambulance, I saw Mr. JT in the truck...he was bleeding."
Jamal Pigues told WREG just after 3 this morning, Jarvis Hines' wife came to his door, pleading for help. She said her husband had been shot and asked him to call 911.
"When I got out there he was face down. She started shaking him, saying 'Wake up. Wake up,' and he woke up. He started coughing and I thought 'He`s okay. He`s still alive.'"
Sadly, he wasn`t okay. Those were the last moments he was alive.
Police said Hines was shot in his truck as he was getting ready to go to work at FedEx.
"Real friendly guy. He just come home and go to work try to do the right thing."
And that`s exactly how Pigues remembers Hines. He said he`s only lived next door to him for 2 months, but in that brief time he`s watched Hines do two things: head to work and pick up painting gigs.
"All he did was work, paint. Properties he couldn`t do by his self he`d call us," said Rickey Hines.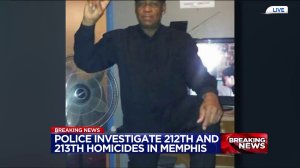 Rickey Hines returned to his uncle`s home Friday realizing he'll never get to paint with his uncle again and confused as to why anyone would want to take his uncle`s life.
"Good guy all around. He`ll joke with you then check you but he didn`t have problems with anyone."
"Aint no telling what is on people`s minds these days. People getting killed left and right."
Just two minutes after finding Hines shot to death, police responded to another shooting on Monterrey Square. This time the victim was 22-year-old Wakesha Bufford.
"I know she has a mother that comes by there. Everybody just needs to get together and take care of them."
Kendra Jones lives across the street from Bufford and, while she only spoke to her in passing, she remembers her as a quiet, pretty girl, who stayed to herself. Jones has a daughter and said no mother deserves the pain of having to bury their child.
"It's hitting home pretty good. I just want everyone to pray for her family."
Two neighborhoods shaken. Both still coming to grips with losses, and pain that won't soon fade away.
Memphis Police Director releases statement about 213 homicides in 2016