This is an archived article and the information in the article may be outdated. Please look at the time stamp on the story to see when it was last updated.
MEMPHIS, Tenn. — Curtis Watson, the escaped inmate who was captured Sunday after a five-day manhunt, broke into a storage trailer overnight Saturday and stole the hunting clothes that he was arrested in, leaving his prison uniform behind, residents told WREG.
He also took a backpack full of equipment, including numerous hunting knives.
Law enforcement confirmed that Watson was arrested with a backpack, but had not completely searched it before media briefing on Sunday afternoon.
The trailer that Watson broke into is near a family's home off Highway 371, close to a wooded area in Lauderdale County where authorities believed they saw Watson on Saturday afternoon. Numerous law enforcement agencies, including the FBI and U.S. Marshals, were on the property where the trailer sits just hours before he broke into it.
The Simpson family said they were relieved to see Watson's arrest but it's been unnerving. Just a couple of miles away, they were overjoyed to learn that Watson had been captured on Sunday — until they saw pictures.
Then, their stomachs dropped.
"That's when we discovered he had been in the shed," Donna Simpson said.
They were shocked when Watson's prison uniform was found inside that trailer, which had been used for storage. Simpson said it was lucky Watson was caught soon after.
"Thank goodness that's what happened. Because he could have gotten a whole lot further with what he had with him," she said.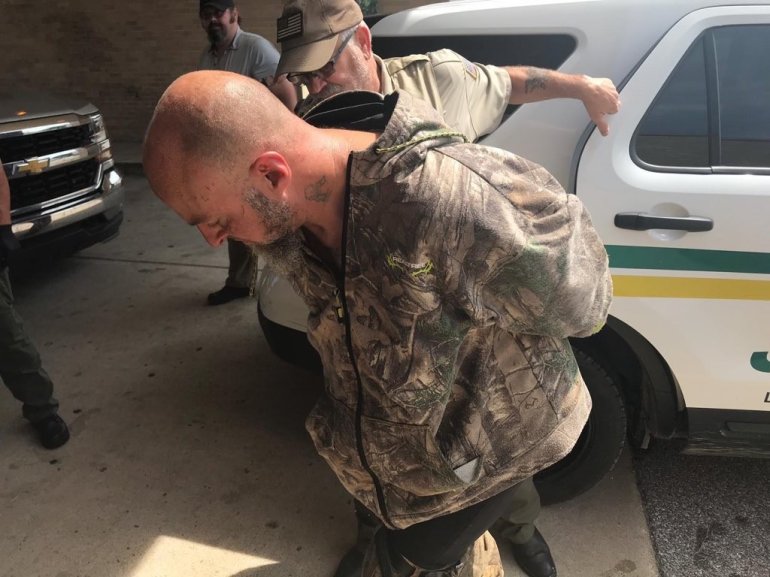 A home security camera also captured images of Watson opening an outdoor refrigerator at a home in the 500 block of Graves Avenue in Henning. It was the first conformed sighting of Watson.
Watson, a minimum security inmate at the prison, is accused of killing and sexually assaulting prison administrator Debra Johnson at her home on prison grounds and escaping on a tractor Wednesday.
He was captured about 10 miles from the prison. After his arrest, Watson was taken to the hospital for treatment. He had mosquito bites and ticks that had to be removed, and injuries to his feet from being wet for days.
The reward for information leading to Watson's arrest totaled $57,000. TBI says it is working with other agencies "to determine the most appropriate ways to distribute the award."
Residents in Lauderdale County were returning to normalcy Monday after five days of living in fear.
It took from various local and national agencies to bring Watson in after five days on the loose, but in a way, the residents in Lauderdale County feel like they played their part, communicating with officers and providing food and drinks when they could.
At Fort Pillow Grocery, just two miles from the West Tennessee State Penitentiary, they regularly get correctional officers that visit for lunch, but nothing like the hundreds of law enforcement agents that flooded the area last week.
Brandy Holderby, a cook at the grocery, said she was feeling safer knowing that law enforcement was doing their job and catching Watson.
"It was definitely a lot more hectic, it was," Holderby said. "But it was good to see and good to serve them as they're serving us."