This is an archived article and the information in the article may be outdated. Please look at the time stamp on the story to see when it was last updated.
[protected-iframe id="0236adc385e16abe5e9db21d4e781b79-29519520-90829140″ info="http://player.ooyala.com/iframe.js#ec=MyN3h4NTE6wRXrpKNAIDVxnt43YrHrUo&pbid=71fea79861d14fce867bc2d59a66edd8″ width="648px" height="365px"]
NEW YORK — Emergency crews were responding to an explosion in Manhattan Saturday night.
The explosion occurred on West 23rd Street in Manhattan's Chelsea neighborhood shortly after 8:30 p.m.
The nature of the incident is unclear, but sources tell CBS News the explosion occurred in a dumpster.
CNN reports sources saying the cause was an explosive device.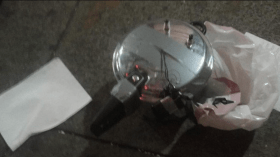 A second device was found on 27th Street.
Police say a pressure cooker with wires attached was found.
Natural gas has been ruled out.
At least 29 people were hurt, the fire department said, though none of the injuries appeared to be life-threatening.
"This is a very dense area, the whole block is restaurants and residences and this area on a warm Saturday night is an area swarming with people," New York City Councilman Cory Johnson told 1010 WINS.
Johnson, who represents the area, told cable news station New York 1 that FBI and federal Homeland Security officials were on the scene, in addition to New York City police.
The reports of a possible blast comes hours after a pipe bomb exploded in Seaside Park, New Jersey, shortly before thousands of runners participated in a charity 5K race to benefit Marines and sailors.
Numerous people were sharing images and video of the massive response on social media.
Moments after the blast on #23rd street #nyc #blast pic.twitter.com/lwbQvR5bDE

— Jon Avidor (@JonAvidor) September 18, 2016
https://twitter.com/jenheck/status/777312362600607745
#Explosion outside our apartment at 23rd and 6th in #newyork. Terrified. Hoping everyone is okay. pic.twitter.com/i3q4cG7aWT

— N∑H∆ (@nnehajainn) September 18, 2016
https://twitter.com/elisabetherapy/status/777307654561619968
Apartment is being blocked off – #Explosion #Chelsea #NewYork pic.twitter.com/B14pWOFpZ0

— N∑H∆ (@nnehajainn) September 18, 2016
This is a developing story.