This is an archived article and the information in the article may be outdated. Please look at the time stamp on the story to see when it was last updated.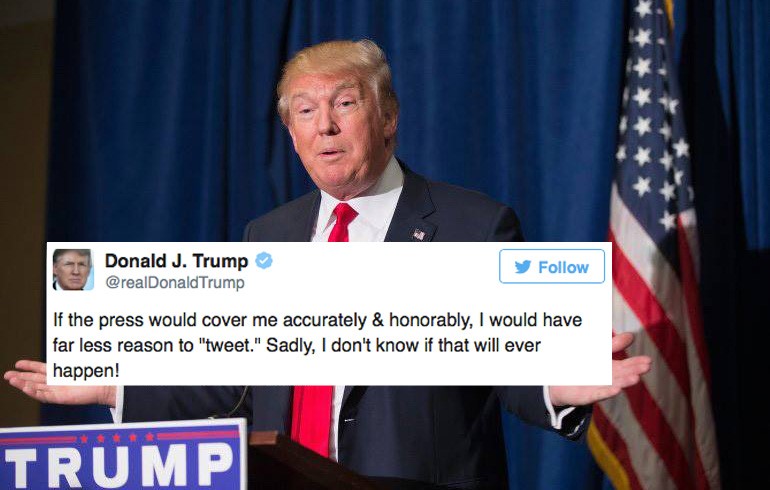 He's past the campaign trail, but President-elect Donald Trump is staying on the Twitter trail.
Shortly after his election, Trump told 60 Minutes' Lesley Stahl he would tone it down on Twitter: "I'm going to be very restrained, if I use it at all, I'm going to be very restrained."
Well, he's certainly used it in the nearly a month since he became president-elect, and his tweeting style hasn't changed much.
Saturday on Twitter, Trump shared his scathing thoughts on a "Saturday Night Live" skit that featured Alec Baldwin as the soon-to-be POTUS. In the skit, the fictional Trump is engrossed in his Twitter account during a meeting and interrupts the officials' security briefing to retweet his followers.
The real Trump had nothing but negative things to say:
Just tried watching Saturday Night Live – unwatchable! Totally biased, not funny and the Baldwin impersonation just can't get any worse. Sad

— Donald J. Trump (@realDonaldTrump) December 4, 2016
Moving from television to the more political subject of foreign affairs, Trump took to Twitter Sunday to criticize China about its currency, taxes on U.S. imports and military construction.
Did China ask us if it was OK to devalue their currency (making it hard for our companies to compete), heavily tax our products going into..

— Donald J. Trump (@realDonaldTrump) December 4, 2016
their country (the U.S. doesn't tax them) or to build a massive military complex in the middle of the South China Sea? I don't think so!

— Donald J. Trump (@realDonaldTrump) December 4, 2016
Those are just some of the latest tweets in which the president-elect has voiced his opinion on the social platform. Other tweets have addressed the issue of a recount, alleged voter fraud, flag burning and the Hamilton cast speaking to Vice President-elect Mike Pence at the conclusion of a show.
Trump doesn't turn on the heat for all of his tweets, however. He has also used his 140 characters to praise fellow politicians — even those on the other side of the aisle, such as his tweet November 20 about the newly elected Senate Democratic leader, Chuck Schumer.
Trump also tweeted his condolences after tragic events, such as the wildfires in East Tennessee and the bus crash in Chattanooga.
My thoughts and prayers are with the great people of Tennessee during these terrible wildfires. Stay safe!

— Donald J. Trump (@realDonaldTrump) November 29, 2016
On the subject of his Twitter habits, he pointed his fingers at the press, writing Monday:
If the press would cover me accurately & honorably, I would have far less reason to "tweet." Sadly, I don't know if that will ever happen!

— Donald J. Trump (@realDonaldTrump) December 5, 2016
Trump has specifically called out the New York Times and CNN recently on Twitter, saying the New York Times is "failing" with inaccurate coverage and that CNN "failed so badly" in pre-election coverage and is now worse.
So is his tweeting a sign of things to come?
Vincent Harris, who did some work on Trump's campaign and was Sen. Rand Paul's chief digital strategist, believes his tweets do offer a glimpse into his presidency.
"I think the way Donald Trump tweets, everything he says is a potential smoke signal for what he thinks and how he'll act in office," he told Politico.
CNN's Julian Zelizer writes, "Unless his advisers take away his Internet access, the basic means of communication that he used as a candidate will become his pulpit as president for the next four years. He will continue to provide, in 140-character bursts, nonstop commentary from the Oval Office and — on the weekends — from Trump Tower in New York City."
And why would Trump stop? After all, he says his tweeting and large social media following are what won him the election.
"I find it tremendous," he said in the 60 Minutes interview. "It's a modern form of communication. There should be nothing we should be ashamed of."