This is an archived article and the information in the article may be outdated. Please look at the time stamp on the story to see when it was last updated.
MEMPHIS, Tenn. — If you set your alarm for the wee morning hours Monday through Friday like WREG's Corie Ventura, keeping your morning routine short is essential. So when she saw a commercial for The Sleep Styler, she had to give it a try.
The Sleep Styler claims to be a heat-free, hands-free hair styling system, but is it really that easy?y?
The directions were simple: Wet, set and go.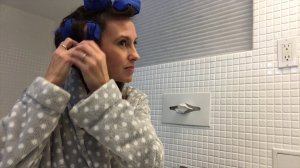 "My hair is washed and, of course, still damp. Not completely dry not saturated either," Ventura said. "I'm going to put product in my hair since I always put product in my hair prior to styling. Then I'm going to put The Sleep Stylers in."
"Its all about volume. My quest for volume."
The Sleep Styler allows you to pick between two sizes — large for long, thick hair and mini for shorter, fine hair. Ventura went with the mini size and said they're very soft. She then sectioned and rolled her hair into The Sleep Styler.
A strap then attaches to the velcro to keep your hair in place.
The next morning it was time to unravel and see if they actually curled the hair while Ventura was sleeping.
"So for the first time using The Sleep Styler, I'm pretty impressed."
"I didn't have to use a curling iron. I didn't have to sleep in hard curlers. The Sleep Styler actually curled my hair while I was sleeping! "
Sleep Stylers, you passed the Does It Work test.