This is an archived article and the information in the article may be outdated. Please look at the time stamp on the story to see when it was last updated.
MEMPHIS, Tenn. —  Amy Burress, hair stylist and makeup artist with High Point Salon, just returned from a trade show in New York.
"Glitter seems to be the hottest trend going on. Eyeline glitter. Even the cut crease glitter."
So, what is a cut crease? It's an eyeshadow technique that helps brighten your eyes and defines your eyelid crease. The professionals can apply it free hand.
"But some people don't have that steady hand, especially if you're a lefty. You just don't have that and you'll get frustrated when you can't get that right."
Hopefully the Eyeshadow Stamp can save time and guide us to the perfect cut crease.
It has a flexible eyelid shape silicone applicator and comes with brown glitter eyeshadow.
Amy started off with a shadow primer.
"It just helps hold. It helps your eye makeup last."
Then she grabbed her powder brush.
"Lightly go over it and just set it."
Next, she brushed concealer onto half of the Eyeshadow Stamp and then pressed the stamp onto her eyelid. She cleaned the eye stamp off, then brushed on the glitter eyeshadow, also on half of the stamp. While the concealer was still wet, she stamped on the glitter eyeshadow.
The glitter shadow stamped right onto Amy's eyelid.
She followed up with a little touch up and then blend.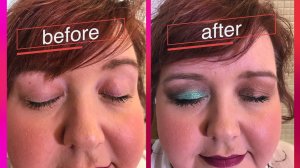 For her other eye, Amy repeated the first few steps, but this time, she covered the entire stamp with blue glitter. Amy followed it up with a quick touch up and voila.  Full coverage. She then blended and finished off the look.
We were pretty impressed.
Amy's favorite feature of the Eyeshadow Stamp were the pointed corners.
"You have these pointed corners. That allows you to get deep into that corner which is really hard."
"This really gives you that precision."
Eyeshadow Stamp, you passed the Does It Work test.