This is an archived article and the information in the article may be outdated. Please look at the time stamp on the story to see when it was last updated.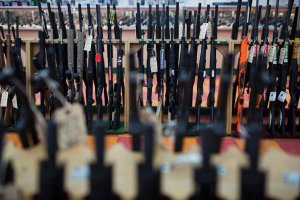 NEW YORK — Dick's Sporting Goods Inc., one of the largest sports and outdoors retailers in the nation, says it will no longer sell assault-style rifles and are modifying the age at which they will sell a person a gun.
The announcement was made Wednesday morning on ABC's Good Morning America.
According to ABC, assault-style rifles, or modern sporting rifles, along with high-capacity magazines will no longer be sold in any of the company's 700-plus stores.
The guns were initially removed from Dick's Sporting Goods stores after the Sandy Hook school shooting, but several months later the guns were made available through their Field & Stream stores.
CEO Ed Stack said this time the move is permanent. From here on out anyone wishing to purchase a firearm at Dick's Sporting Goods will also have to be 21.
In a statement obtained by the news outlet, the company said, ""We support and respect the Second Amendment, and we recognize and appreciate that the vast majority of gun owners in this country are responsible, law-abiding citizens. But we have to help solve the problem that's in front of us. Gun violence is an epidemic that's taking the lives of too many people, including the brightest hope for the future of America — our kids."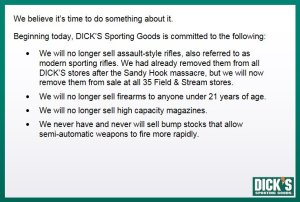 The announcement comes just weeks after 17 people, including students, were gunned down inside Marjory Stoneman Douglas High School in Parkland, Florida.  In November 2017, the shooter, Nikolas Cruz, reportedly purchased a gun from Dick's after threatening another person. While it wasn't the gun used in the massacre, the sporting company said the incident left them reeling.
On Wednesday, Stack said witnessing the grief afterwards and the bravery of the students coming forward demanding change has convinced them they need to take some sort of action.
When asked about potential fallout, Stack said they're expecting it, but said hopefully the move will help start a wider conversation about responsible, "common sense" gun control.
The company will continue to sell other firearms.
Dick's isn't the only retailer to stop selling certain guns. Walmart stopped selling semiautomatic weapons in 2015.