This is an archived article and the information in the article may be outdated. Please look at the time stamp on the story to see when it was last updated.
DESOTO COUNTY, Miss. -- We're learning more about the two DeSoto County Sheriff's deputies recovering from Wednesday night's shooting.
Sergeant Hunter Garrett has been released from the hospital, but Deputy Brandon Lee Hutchens is still in the intensive care unit after authorities say he was shot in the chest.
On Thursday, we learned a little bit more about who the two men are.
In an August social media post, Sergeant Hunter Garrett explained what he looks forward to most while on the job.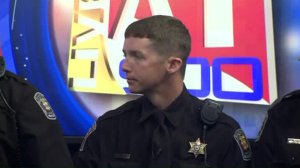 "I really just have to say any opportunity to help someone," he said in the video.
On Wednesday, he stayed true to that passion.
Authorities said he and K-9 Deputy Brandon Lee Hutchens put their lives on the line while pursuing a robbery suspect in Southaven.
"Both are outstanding young men and they do this job because they love it and they love protecting people of this county," said Desoto County Sheriff Bill Rasco.
Deputy Hutchens and Sgt. Garrett were both rushed to Regional Medical Center after being shot.
Various law enforcement agencies were right behind them to show their support.
"They stood in the gap for all of us last night," said Southaven Police Chief Steve Pirtle.
Deputy Hutchens is the senior K-9 deputy in DeSoto County. We're told he's still recovering in the ICU from a collapsed lung.
The Sheriff shared a touching story about his fiancée's visit to the hospital.
"She said, 'Are we still getting married?' and he couldn't talk, but he shrugged his shoulders like that and grinned and said, 'I love you.'"
Sgt. Garrett was released around 2:30 a.m. and his now at home with his wife. We`re told he was shot in the foot and will be in a cast while his broken bones heal. He`s spent time with the DA task force and was recently promoted to sergeant.
Sheriff Rasco said he's relieved knowing both men will soon be wearing their badges again.
"We know we got an angel looking over us last night, so we're not having to lay somebody to rest," said Sheriff Rasco.
Both of the men will be on paid leave as this investigation continues.
The Sheriff said going through an incident like this where a suspect is killed is unimaginable and takes a toll on them. They will have therapists and support for everyone involved.