This is an archived article and the information in the article may be outdated. Please look at the time stamp on the story to see when it was last updated.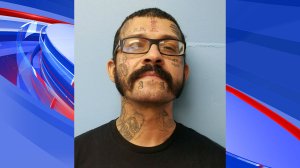 MEXICO BEACH, Fl. — A Florida man was arrested after allegedly drawing a disturbing image on a child's homework assignment.
The investigation began on Friday after the administration at Port St. Joe Elementary School showed the picture to a school resource officer. The image, which was released to the public, shows a school house on fire and a stick figure standing outside pointing what is assumed to be a gun at others with the caption "Pew, pew, pew". Two of the figures are on the ground in a pool of blood.
Another stick figure, which is on fire, is screaming "Ahhh! It Burns!" is it runs away from the school.
The Gulf County Sheriff's Office said they believe the image was drawn by Robert Edwards.
The 33-year-old was arrested and charged with making a written threat to kill or do bodily injury.
In a statement, Sheriff Mike Harrison said there is no indication Edwards was preparing to carry out an attack.