This is an archived article and the information in the article may be outdated. Please look at the time stamp on the story to see when it was last updated.
MEMPHIS, Tenn. — Jamilyka Jamison has fond memories of her dad.
"He used to always call and get on my nerves about the bologna and crackers. I'd have to take that up there to him. I just miss his smile and everything," she said of her father Roy Jamison.
But those memories are tainted now. She said he had a stroke in 2016 and went in to care at Ashton Place nursing home on Walnut Grove.
Before long, she didn't recognize her dad.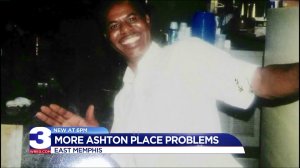 "My daddy was always up and alert. He was real sleepy now. I knew something wrong," she said.
But she said she didn't know exactly what was going on until it was too late.
About a month into his stay, she got a call; he had a heart attack and was at the hospital. He didn't make it.
Doctors ruled his cause of death as a combination of anoxic brain damage, cardiac arrest and hypoglycemia.
She blamed facility staff for never feeding him.
"The very next day after I let them know something was wrong, he passed away. I asked for answers. They didn't give me any answers of what happened," she said.
She's now suing Ashton Place. And she also saw WREG's coverage of another Ashton Place resident who died after doctors found maggots in his amputation wounds.
"It brought back memories of the way they treated my father," she said.
"We have heard the same problems for the last 15 years coming out of this facility," attorney Parke Morris said. "This is one of the worst nursing homes not just in Memphis but the entire Mid-South area. It's understaffed, the staff don't have enough supplies and they're incapable of responding in timely manner."
And while Jamison knows her dad is gone forever, she said she just wants answers for him and so many others.
"Not enough money in the world will bring my father back but something has to happen," she said.
A representative for Skyline Healthcare would not comment on the case since it occurred before Skyline bought Ashton Place in September 2017.
Health Services Management Group of Cleveland, Tennessee previously owned the nursing home. WREG left a message for administrator Thomas Johnson and has not heard back.