This is an archived article and the information in the article may be outdated. Please look at the time stamp on the story to see when it was last updated.
MEMPHIS, Tenn. — Shelby County District Attorney Amy Weirich said two Memphis Police officers who killed a South Memphis man will not face criminal charges.
Weirich reviewed the Tennessee Bureau of Investigation's report and said she believes the actions of Officers Clement Marks and Alexander Fleites were justified.
They shot and killed 32-year-old Jonathon Bratcher back in January. Police said he fired first during a foot chase.
"We had faith in a system that again has let us down."
After waiting nine months, William Green, Bratcher's brother, did not get the news he wanted.
"Seeing is believing. Why can't we see the evidence?" he questioned.
On Wednesday, a memorial of teddy bears and pictures remained behind the South Memphis church Bratcher, known as "ToJo," was killed behind.
"It put a big hole everybody cause it right here in our neighborhood," said friend, Michael Farley.
It was back in January when investigators said Bratcher jumped from a car police were pursuing off Mississippi Boulevard and South Parkway East. They said he fired at least one shot at officers before they returned fire.
WREG obtained cell phone video showing the moments after the shooting where you can see officers performing CPR on Bratcher. At one point, they push a dark object away from him. Looking at the video, it's difficult to tell what that object is. On Wednesday, Bratcher's friends were adamant it was a cell phone.
"He was a good person. A good person," said Farley.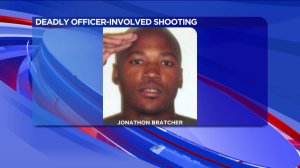 Documents uncovered by WREG show he had a criminal record and served time in prison.
"He went and did his time. He got out and changed his life. He was like a different person to me," said Albert Crawford, a longtime friend.
DA  Weirich's office declined to go on camera but released a statement saying in part, "I believe a jury would find that the officers had lawful justification to fire their weapons at the suspect in self defense, in the defense of others and in order to affect an arrest."
Crawford said while he's disappointed with the decision, he hopes community relations with police improve.
"They gotta get with the community and talk to the community. Not just this community, the whole community. You know what I'm saying, they gotta get with everybody over the city."
WREG obtained the more than 20 page petition filed in Chancery Court by DA Weirich. She's asking for the TBI to release the finding of their investigation to the public saying it's in the public's best interest.
The case is expected to be heard in Chancery Court December 2.