This is an archived article and the information in the article may be outdated. Please look at the time stamp on the story to see when it was last updated.
MEMPHIS, Tenn. — Fresh paint marked the spot Monday where graphic graffiti over the weekend criticized Mayor Jim Strickland for what the city called an error.
"Unfortunately it happened. Public Works made a mistake," Council Chairman Berlin Boyd said.
City officials took responsibility for the mistaken covering of murals with images like a Memphis Tiger and a desert sunset. Instead, they said Public Works employees were supposed to paint over four murals deemed inappropriate by City Council.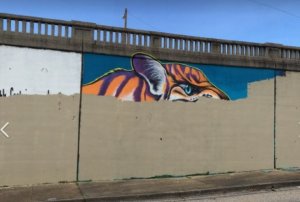 ► Related: City paints over part of 'offensive' Midtown murals
"Why couldn't it just be Elvis? Why did he have to have a snake coming out of his head and eye?" Boyd said of one of the offensive murals that some had called "demonic."
The murals were all painted last fall in a coordinated project by Paint Memphis, led by Karen Golightly. She said the city is actually not allowed to tear any of them down.
"They have broken an agreement with us that if we adhere to the guidelines with the city that it would remain," Golightly said.
She said the murals the city destroyed Friday were worth $35,000 and done by international artists they won't be able to bring back.
Even though Midtown resident Aisha Raison was sad to see them go, she saw the mistake as an opportunity.
"Maybe this time around, Paint Memphis or whoever will go and get Memphis artists," Raison said.
"The council will have a say now in what's being painted on city property moving forward in our respective districts," Boyd said.
Meanwhile, Boyd said he has still directed public works to cover up the four murals they were supposed to do.