This is an archived article and the information in the article may be outdated. Please look at the time stamp on the story to see when it was last updated.
DESOTO COUNTY, Miss. — A woman has been charged with the murder of her husband after a deadly domestic violence incident in DeSoto County.
A DeSoto County Sheriff's Department spokesperson said a man was found dead on Center Hill Road near Center Hill Elementary School early Tuesday morning.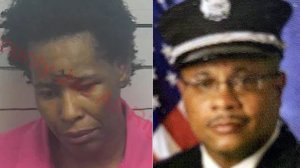 Felicia Barden is charged with the murder of her husband, Willie Barden, the sheriff's spokesperson said. A man was also taken into custody initially, but the spokesperson did not release any information about him.
Willie Barden was a Memphis Firefighter and has been with the Memphis Fire Department since July 2004.
Neighbor Linda McClure said she did her best to befriend the couple. She said deputies were called to the home once last year for an incident involving another family member.
"He was sweet as sugar to me. He would hug me, he would call me Ms. Linda," she said of the husband.  "And she seemed sweet. A little bit standoffish. She said she didn't tell anybody her business."