This is an archived article and the information in the article may be outdated. Please look at the time stamp on the story to see when it was last updated.
When I was young I thought pregnant women lived off of ice cream and pickles.
I could not wait to grow up and get pregnant!
I mean ice cream and pickles!
That was my kind of meal. :)
As I got older I started to understand what cravings actually meant.
The one thing that tipped me off that I was pregnant was that things smelled different …really different.
And it was not for the better either.
I also remember guzzling pickle juice.
I was already a massive fan of pickles and olives.
It was not a stretch for me to be standing at the refrigerator, door wide open and me tossing back green olives, crisp pickle spears and taking a swing of the juice without even being pregnant.
I do not ask Thor to make midnight runs to Kroger for a pint of Graeters Black Cherry Ice Cream.
I do linger a lot longer in the ice cream aisle, though. ;)
Instead, I send out the bat signal to my friends who live in areas that carry Entenmann's Chocolate Donuts.
I beg them to overnight a few boxes via FedEx.
I grew up on those things.
Long Island summers filled with great bakeries, fresh bagels and endless Entenmann's.
I loved the blue & white thin rope that they would tie tightly around a stack of coffee cakes & chocolate donuts.
Yesterday I was craving the bread from Ciao Bella's.
I love to dip the bread in my leftover salad dressing.
And I'm craving the sauce that comes with their Seafood Cannelloni.
Random I know.
I can not help it.
Today was a Renee's Sandwich Shop day.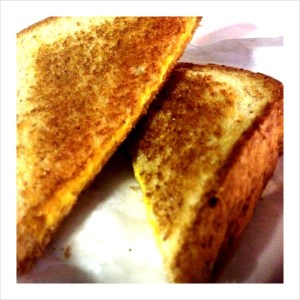 Best grilled cheese in town, in my opinion. ;)
Gone are the days of craving just pickles and ice cream I guess. :)