This is an archived article and the information in the article may be outdated. Please look at the time stamp on the story to see when it was last updated.
Last Friday Thor and I were able to peek in, once again, at our growing little nugget.
I can not believe how much he had grown since last month.
We were blown away by how clear the picture was and how cute he looked.
More so how human he looked.
Prior images were profiles, and well he was still so tiny.
I know I have a little human being in my belly.
Sometimes when you are at the doctor's office, you have a hard time trying to figure out what you are looking at.
Our last visit was truly remarkable.
We fell even more head over heels with our son.
Take a look. :)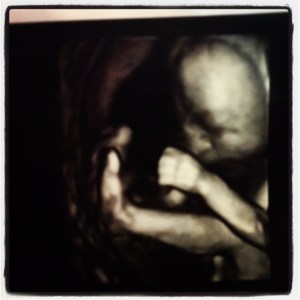 Right now I am on an emotional rollercoaster.
One second I can not wait for his arrival … wishing it was tomorrow.
Then the next day I realize we still have a lot to get done and learn.
Not just the baby's room but we feel anxious.
I felt the best way to deal with that anxiety was to sign us up for a parenting class.
You can read a thousand books, but I am a true believer in hands on learning, as well.
I am going to admit to you right now … I have never changed a diaper in my life and nor has Thor.
We do not know how to swaddle a baby either.
So it is time for us to hit the books and attend a few classes.
We'll be pros in no time. :)
December is just around the corner!