This is an archived article and the information in the article may be outdated. Please look at the time stamp on the story to see when it was last updated.
MEMPHIS, Tenn. — As a descendant of Nathan Bedford Forrest, Lee Millar decided to pay his respects Thursday; he jumped the fence guarding the pedestal that once held Forrest's statue.
"His grandmother is my great-great grandmother," Millar said.
He said police told him to leave because it's private property now owned by Memphis Greenspace. They did not issue a citation, he said.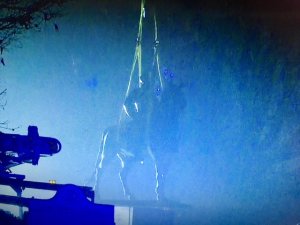 Before yesterday, Millar said he and other Sons of Confederate Veterans were willing to work with city leaders to compromise on moving the statues of Forrest and Jefferson Davis, both formerly in city-owned parks. But after their decision to sell the parks and then move them, he became enraged.
"The Sons of Confederate Veterans are interested in getting both the statues back because we paid for them in the first place," he said.
Millar said he also spoke Thursday with the great-great-great granddaughter of Jefferson Davis. She currently lives in Bartlett.
"She was just incensed that the statues were coming down," Millar said.
Millar acknowledged the Sons of Confederate Veterans' symbols had been co-opted recently by hate groups.
"It's hard to fight because you don't know what these lunatics will do but we continue with our message these men were great examples," he said.
That's why he said he and his family have come to terms with the legacy of his ancestor, both good and bad. He said it's no reason to take the statues down.
"He was a slave trader, well so are a lot of people. That was a legal business back then. Unfortunate business in our history, but it was legal and nobody had a problem with it back 150 years ago," he said.
WREG pointed out many people back then and in current times did and do have a problem with slavery. He did not acknowledge that could keep him from understanding their feelings on the statues.
He did not comment on whether the Sons of Confederate Veterans would pursue legal action against the city.