This is an archived article and the information in the article may be outdated. Please look at the time stamp on the story to see when it was last updated.
MEMPHIS, Tenn. -- Several people are in custody following a fatal shooting at a Fox Meadows gas station.
"I think it's horrible," said customer Antonio Smith. "Things shouldn't be going on like that."
Police say just after eight Sunday night, a group got into a confrontation outside the Marathon Gas Station on Ridgeway Road.
A man was shot and brought to the hospital where he later died.
"All my condolences go out to him and his mom and his family members and his friends," said Smith.
Police aren't yet identifying the victim for us, but he's the 17th homicide victim of the year in Memphis.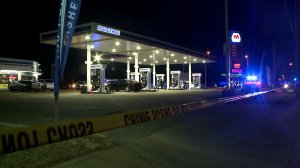 "I think it's ridiculous for it to be happening so frequently honestly, especially for it to be so close to people's houses and kids," said customer Yniecia Williams. "I think it's crazy."
Crazy so many people are turning to guns when having an altercation.
"I think about it being my child because I have a daughter, so that's people's kids just dying," said Williams.
Commissioner Eddie Jones says it's another crime he's saddened to hear happening in his district.
"I'm very concerned by it," he said. "I believe now that we need to at the commission have a conversation about this because it's beginning to get out of control."
But he'd also like to see the neighborhoods get involved.
"You're going to have to have the community step in and be a part of this, otherwise the police can't do it all by themselves," said Jones.
He said he's going to bring the discussion to his committee in the hopes of putting a stop to the violence we're all sick of hearing about.
"My tolerance level, it's at its peak now -- its max," said Smith.
Memphis police said they detained several people but have not gotten back to us on formal charges or more details on what happened.