This is an archived article and the information in the article may be outdated. Please look at the time stamp on the story to see when it was last updated.
COLLIERVILLE, Tenn. —  Collierville police are searching for a man wanted in a vicious attack over the weekend.
The victim said he was at the Shell gas station in the 100 block of East Highway 72 on Saturday when an unknown man approached him asking for money.  The man told him no and that's when the suspect attacked, police said.
He pulled out a baseball bat and attacked the man. The victim is expected to be okay.
Collierville police have not been able to identify the attacker, but they are hoping someone will recognize him from the surveillance photos. If you know him, call police at (901) 457-2520.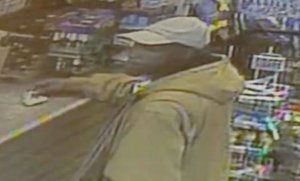 This is the third baseball bat attack WREG has reported on in the past month.
Neil Wadlington told Stacy Jacobson he was riding his bike on Madison Avenue in Midtown when someone got out of a car and attacked him.
"I was just riding along. And the next thing I know, there are bystanders over me waking me up off the sidewalk in a pool of blood," he said. "One bystander said, 'A guy got out of the car and hit you with a bat.'"
The attack left him with serious injuries to his entire face, including a broken nose, cheekbone and tooth.
Phillip Jones said he was walking home from a friend's house on Cowden when his attack happened.
In both cases, the attackers did not steal anything.
It's unclear if any of the crimes are connected. If you know anything, call Crime Stoppers at (901) 528-CASH.