This is an archived article and the information in the article may be outdated. Please look at the time stamp on the story to see when it was last updated.
MEMPHIS, Tenn. --  A Clarksdale, Mississippi police officer is in critical condition after being shot in the head Saturday while on duty.
The shooting suspect is in custody.
Investigators said the suspect's father turned him into police, but they have not released his name so far.
Meanwhile, Cpl. Derrick Couch remains at Regional Medical Center in Memphis.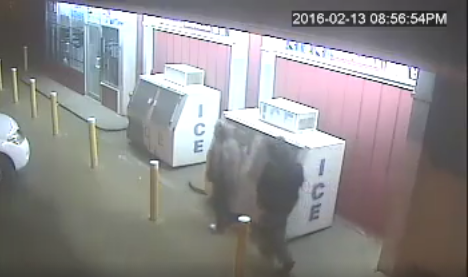 City leaders said investigators were able to track the suspects' every move, largely because of security cameras that police said caught the shooting.
The security camera video shows two men slowly making their way into the Corner Grocery across from the Clarksdale City Hall.
City leaders said those are the men who robbed the store and then took off running across the parking lot and down the alley.
Luckett said Couch saw the larger suspect, the one seen limping in the video and tried to stop him behind a nearby church.
Luckett said that man with the limp shot the officer, the bullet going through his eye socket into his head.
"I actually saw video of the officer being shot, it's grainy and long distance, but it's obvious what happened," Luckett said.
Security cameras at the store and in the alley and even the mayor's law firm helped investigators build their case against the shooter. The suspected shooter's father saw it and turned him in to police.
So many who know the officer are prayers he pulls through, and grateful the video was there.
"I been knowing him, been knowing him for years," said Mary Morgan, one of Couch's friends.
"It's sad that a man trying to do his job and he gets shot," said Ralph Jackson, who also knows Couch. "It was a lucky shot. I don't think they were aiming, and they just turned and shot."
Obviously, investigators aren't showing all that video footage, but they're certainly using it to help them solve the case.
Police are still looking for the second robbery suspect.