This is an archived article and the information in the article may be outdated. Please look at the time stamp on the story to see when it was last updated.
MEMPHIS, Tenn. — The city of Memphis says it is ramping up efforts to recruit more police officers.
Police recruiters were stationed at community centers across the city on Friday.
"We know we have a lot of people in Memphis who have a passion to serve. We want them to connect with us. If they want to apply, they are able to apply at all these locations," said Foluke Houston, the public safety recruitment supervisor.
She said they will move to malls and churches the rest of the weekend, and then pack their bags to head to cities across the country including Jackson, Mississippi, Houston, Texas and Shreveport, Louisiana.
"We just left Seattle, Washington, and we left Chicago, Illinois where we talked to some very excited applicants about joining the best in blue," said Houston.
Mayor Jim Strickland's goal is to get 2,300 officers by 2020. Right now, there's 1,955.
While the city continues to have two recruiting classes every year, the force lost hundreds of officers when pensions and benefits changed in December 2014.
Strickland shared a graphic in his weekly email showing when MPD's headcount dropped, violent crime spiked.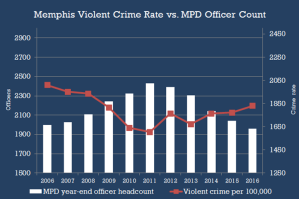 Memphis Shelby Crime Commissioner President Bill Gibbons recently addressed the issue.
"The good news is we have stopped losing officers. We stabilized the number and are now seeing an increase," said Gibbons.
The city hopes recruiting efforts will get more people to apply for the next class which begins Oct. 1.
Strickland said he also budgeted for a third class this year, which started a couple of weeks ago.