This is an archived article and the information in the article may be outdated. Please look at the time stamp on the story to see when it was last updated.
ST. FRANCIS COUNTY, Ark. -- A house was riddled with bullets in St. Francis County.
The father was sitting on the couch while the mother was cooking dinner when it happened Friday night in a rural area on Highway 334 just outside Forrest City.
The most disturbing part: one of the bullets flew through a child's bedroom and lodged into a bunk bed where six kids, between 3 and 12 years old, were playing.
The bullet came within inches from hitting a 10-year-old in the head.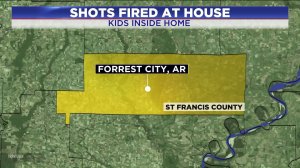 "She came running out saying the bullet went right by her head," said the 10-year-old's father Eddie Hart. "I loaded my gun and came out the door, but it was too late."
The shooter got away before he could get a good look.
Deputies said the home was hit at least three times and a car was shot up too.
They collected evidence and took pictures while the family tried to think who could do this.
"I have no idea really. I have no enemies that I know of," said Hart.
That uncertainty fuels the family's fear. The children impacted the most.
"They're scared. She won't even go into her room," said Hart.
Deputies said they are following up on leads.
They are asking anyone with information to call St. Francis Sheriff's Office.