This is an archived article and the information in the article may be outdated. Please look at the time stamp on the story to see when it was last updated.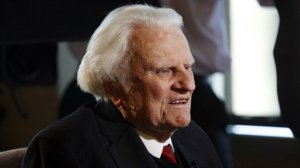 NASHVILLE, Tenn. — The Rev. Billy Graham has died at the age of 99, multiple sources have confirmed.
Spokesman Mark DeMoss tell The Associated Press that Graham died Wednesday morning at his home in Montreat, North Carolina.
He had been treated in recent years for cancer, pneumonia and other ailments.
His outreach started, he said, as a teenager when he was inspired to spread the gospel.
"Christ came into my life, transformed me, changed me, made me a new person. I've seen him change thousands of lives," he said in an interview back in 1956.
His crusade caught fire.
Graham is credited with bringing the Born Again religious movement into the American mainstream, reaching more than 200 million through his appearances and millions more through his pioneering use of television and radio. His column appeared in more than 200 newspapers and his weekly radio program was carried on 700 radio stations.
His message and service to U.S. presidents from Dwight Eisenhower to George W. Bush earned him the nickname "America's Pastor." President Johnson offered him the ambassadorship to Israel, a post he refused. Nixon was a close friend and frequent golf partner. George Bush called Graham to the White House the night before he launched the first Gulf War.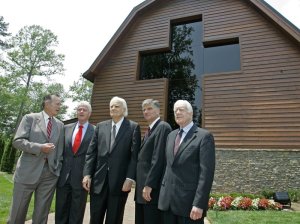 Younger President Bush credits Graham with turning him away from drinking and towards embracing God.
Life magazine listed him as one of the 100 Most Important Americans for the 20th century.
A frail Billy Graham was honored by three former presidents at the dedication of his library in Charlotte.
"To have a man whose public ministry has reached hundreds of millions simply because he believed God had called him to use his massive talents to show that he loved his neighbor as his savior told him is a great gift," said former President Bill Clinton.
Shortly afterwards, his wife of more than 60 years, Ruth Bell Graham, died and was buried on the library grounds. Billy Graham reportedly told his children and grandchildren that he was "looking forward to the next service" when he would be buried at her side.
"I'd like to go to heaven I'm looking forward to it."