This is an archived article and the information in the article may be outdated. Please look at the time stamp on the story to see when it was last updated.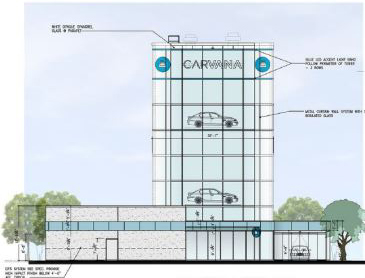 MEMPHIS, Tenn. — Auto retailer Carvana is looking to open an auto sales facility in Memphis that would feature a 75-foot automobile "vending machine."
The site under consideration for the lighted glass tower is on Appling Farms Parkway near Interstate 40 in Cordova, according to documents submitted to the Land Use Control Board.
Phoenix-based Carvana was founded in 2012. Customers purchase their vehicles through carvana.com, and can either have the vehicles shipped to them or pick them up at one of the vending machine locations.
The company currently has 13 locations, including Nashville.
Carvana would not comment on their proposed Memphis location, but a company representative wrote a letter to county officials stating "Carvana looks forward to working with the City of Memphis to develop a car Vending Machine … "
Here's how it works in Nashville: