This is an archived article and the information in the article may be outdated. Please look at the time stamp on the story to see when it was last updated.
MEMPHIS, Tenn. — A wild chase for a carjacking suspect involving two stolen cars and a brief kidnapping ended near Shelby Farms on Monday afternoon. Memphis police identified the suspect as 
Ray Burns
, 35, the same man they've been looking for since Friday in connection with another carjacking. Burns was booked into the Shelby County jail overnight. He faces multiple charges including aggravated robbery, carjacking, attempted robbery and carjacking, especially aggravated kidnapping, evading arrest and reckless driving. Burns also has a lengthy criminal record in Shelby County.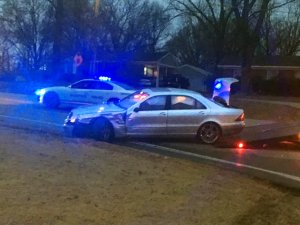 Police said they began pursuing Burns Monday around 1:30 p.m. after he carjacked a silver Kia Optima from a woman on Barron Avenue.
Alexis Nelson, a passenger in the Kia, said the Kia's driver was walking out of the Orange Mound Food Market when Burns hopped in the car with her and her six-year-old daughter. "This man just practically jumped in while me and my child was in the car saying, 'Is we gonna ride or get out' and I was just like, 'My baby!'" Nelson said Burns allowed her to get her daughter out of the backseat before speeding off. Police said Burns then went to a gas station at the corner of Highway 70 and Airline Road in Arlington and stole Dexter Baker's white Chevy Impala while he was pumping gas. Baker said Burns was already being followed by a police helicopter at that point. "(He) brandished a firearm and requested that I give him my wallet and give him the keys to my car and he took off in the car," said Baker. Burns took off on Highway 70 with Baker's brother, Grant. "I thought he was gonna run us into the side of the road or something. He was driving all erratic and everything like that. I mean, he had that gun on him, so I was as calm as could be," said Grant Baker. Burns eventually let Baker go after only a few minutes. "He let me out at the corner up there. He say he didn't want to kill me, so I said, 'Thank you,' and I got out the car." Police said Burns was finally taken into custody just after 3 p.m. at the corner of Whitten and Mullins Station in Cordova. It appears he crashed into a silver Mercedes.
Officers respond to a gas station in Arlington where a carjacking suspect allegedly stole another car, with a man inside. Luke Jones)

Police responded to a gas station in Arlington where sa carjacking suspect popped this Kia on the curb , then allegedly carjacked another man's vehicle with his brother still inside. (Luke Jones)