This is an archived article and the information in the article may be outdated. Please look at the time stamp on the story to see when it was last updated.
NEW YORK — Much of the country remains in a deep freeze as millions of Americans endure some of the coldest temperatures in years.
A wind chill of minus 10 is expected in Minneapolis, and minus five in Boston on Thursday. The bitter cold is expected to last through new year's.
In the small town of Cotton, Minnesota temperatures dropped to 41 below zero.
"I was hoping my vehicle wouldn't start so I could stay home, but it started," said Brenda Stephens.
The National Weather Service reported International Falls and Hibbing, Minnesota, set record low temperatures on Wednesday morning. International Falls, the self-proclaimed Icebox of the Nation, plunged to 37 degrees below zero, breaking the old record of 32 below set in 1924. Hibbing bottomed out at 28 below, breaking the old record of 27 below set in 1964.
Wind chill advisories or warnings were in effect for much of New England, northern Pennsylvania and New York. Those places and states in the northern Plains and Great Lakes were projected to see highs in the teens or single digits and lows below zero for the rest of the week and into the new year.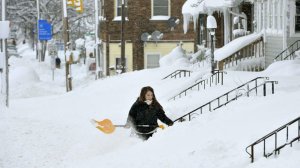 The National Weather Service said wind chills in many areas Thursday could make temperatures feel below zero.
In Erie, Pennsylvania, the big dig continues after more than 60 inches of snow fell this week.
In New York, communities near Lake Ontario's eastern end, including Redfield and Boylston, also saw around 5 feet of snow this week.
The storm's timing was good, since people were off the streets and staying home for Christmas, giving plows more space to clear streets, officials said.
By Wednesday, Erie's roads were relatively clear, emergency calls were relatively slow and the big task was digging out, County Executive Kathy Dahlkemper said.
"We're used to a lot of snow here in Erie, but this is unprecedented, the amount we got," Dahlkemper said.
Minneapolis (David Joles/ Star Tribune via AP)

Erie, Pennsylvania (Greg Wohlford/ Erie Times-News via AP)

Erie, Pennsylvania (Greg Wohlford/ Erie Times-News via AP)

Erie, Pennsylvania (Greg Wohlford/ Erie Times-News via AP)

A woman shovels snow near her home in Erie, Pa. (Greg Wohlford/ Erie Times-News via AP)
In Millcreek, outside Erie, it took Kathleen Palkovic and her son two hours to shovel out so she could make it to her waitressing job. The 5-mile (8-kilometer) drive to Dave's Diner in downtown Erie took an hour. Palkovic and the cook opened the restaurant at a little after 6 a.m. in single-digit temperatures.
"We're dedicated people, I guess," Palkovic said.
Something else helped: "It took 800 milligrams of ibuprofen after all that to get me to work."
In the South, forecasters are looking at the possibility of snow, sleet and/or freezing rains Sunday afternoon.
Warmest (no, I wish I was kidding about that) temperatures on #WREG @3onyourside #Weathernet3 at 5:30 AM: upper teens with occasionally breezy winds. pic.twitter.com/Jt658XYF45

— Äústèn L. Ønêk WREG (@AOnek_WREG3) December 28, 2017
17 degrees right now. SEVENTEEN.

I'm over winter. pic.twitter.com/qHgr5uPbWM

— Nina Harrelson (@NinaHarrelsonTV) December 28, 2017
Temperatures as #WREG @3onyourside Daybreak airs: low teens on #WeatherNet3 early Thursday. pic.twitter.com/l0nThph20e

— Äústèn L. Ønêk WREG (@AOnek_WREG3) December 28, 2017
Whether you're digging out or just having fun, doctors caution to look out for warning signs about your health.
"Make sure that you're being aware that if you're seeing any numbness, redness, swelling, that you need to be warming up," said Dr. Daren Beam.
Harvard Medical School: How does cold weather affect your health?