This is an archived article and the information in the article may be outdated. Please look at the time stamp on the story to see when it was last updated.
TIPTON COUNTY, Tenn. — Dozens of parents checked out students from Brighton High School on Wednesday after the school was placed on lockdown following a report of a weapon.
Police searched the school but did not find any weapon.
Victoria Harrell a ninth grader at the school says that she and many of her classmates just thought it was a drill. That is until they started checking everyone's bags and patting their jackets down.
"Okay, it's just a drill and the next thing you know they come checking all of our stuff," Victoria said.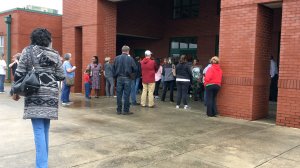 Victoria's mother Christy Harrell was among dozen of parents who were at the school waiting to check their kids out from school after the lockdown.
Harrell says that she was just taking her child home out of precaution but that she is confident in the school's security.
"I felt that my child was safe here. I don't doubt the security that is offered here at the school," she said.
With the recent Florida school shooting fresh in many people's minds, Christy knows that it can happen anywhere.
"It can happen in a big city and it can happen in a small town," Christy said.
It a statment Tipton Count Schools said:
"Brighton High School administration received information from a student this morning that another student could possibly have a gun. Because we take all possible threats seriously, students remained in their rooms while administration and law enforcement conducted a search. No gun was found and the school returned to its regular schedule."
Christy says she is just grateful they take things seriously.
"Nothing happened today, it shows that we are on guard," Christy said. "Obviously the teachers, the staff, and administration here at Brighton High School they are ready for anything that happens here."
Charles Vrandonhanks, another ninth grader who was checked out, says he is was grateful for his father who checked him out after the whole event left him unsafe.
He said that a lot of his classmates were constantly being checked out while he himself was waiting to be checked out.
"It's a wasted day. We weren't doing anything. I mean, no one is doing anything."