This is an archived article and the information in the article may be outdated. Please look at the time stamp on the story to see when it was last updated.
MEMPHIS, Tenn-- In 1968, it was a time of racial strife and tension in Memphis and other segregated southern cities.
Legendary songwriter and producer David Porter, along with Isaac Hayes, worked at Stax Records and reflected on they way things were.
"So there were a lot of idiots and bigots and prejudice around us at that time, but in order to exist in a productive way, we had to be able to look past the idiots," Porter said.
But there was one place where the color of your skin didn't seem to matter much in Memphis. That place was at the corner of College and McClemore where Stax was located in South Memphis.
"That`s what we were attempting to do with our energies at Stax, and that`s what the music said in all the music we recorded at Stax," Porter said.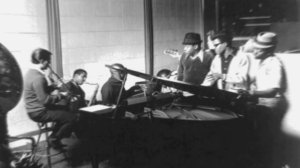 Stax was comprised of an integrated staff and team of musicians both black and white. There were integrated bands such as Wayne Jackson and Andrew Love of the Memphis Horns, the original Bar-Kays and Booker T and the MG's, just to name a few.
James Alexander is the founder and bass player of the funk and R&B band the Bar-Kays.
"When we walked through those doors, you wouldn't believe it. We didn't think about black or white. We just wanted to come in and create some good down home music," Alexander said.
Good down home music is what was being made inside Stax records, but outside and a few miles away at the Lorraine Motel in downtown Memphis, the unthinkable happened on April 4, 1968. Dr. Martin Luther King Jr, who'd come to Memphis on behalf of striking sanitation workers, was assassinated.
"The day Dr. Martin Luther King was killed, we were in the studio. In fact, we had to spend the night in the studio because they had the National Guard posted right outside Stax," Alexander said.
In spite of what was going on in the streets of Memphis and trying to come to terms with why someone would kill Dr. King, the Stax musicians remained united.
"It was about being inclusive. It was about making whoever hears it, feel it. It was about having an emotional connectivity to it and if people can feel you and feel the legitimacy of you, they can appreciate you if it`s there to be appreciated," said Porter.
Forty-nine years after Dr. King's death, music is coming back into prominence in Memphis.
Porter is now the CEO of his new Made in Memphis Entertainment recording studio and record label, which also has diverse artists black and white.
City leaders such as Kevin Kane of the Memphis Convention and Visitors Bureau and Memphis Mayor Jim Strickland said we can learn from Memphis' past and what was being achieved through music.
"It`s just amazing. The most integrated part of our community back then was Stax and what was the music coming out of this city. There was no segregation there. It was total integration. They had already moved beyond all of that," Kane said.
"First, it`s a remarkable story back in the 60's because we all remember the 60's and there was not much harmony among the races, and the Stax Museum stands out as a harmonious sound that brought black and whites together. But when I look at today and David Porter`s recording studio, there is a diverse group of people making music. So, music and sports are industries that bring us together. Let`s build upon that and do it more in politics and business and learn there`s harmony in bringing us together," Strickland said.
Racial harmony that can be made in Memphis half a century later.