This is an archived article and the information in the article may be outdated. Please look at the time stamp on the story to see when it was last updated.
MEMPHIS, Tenn. -- A gateway project plan was presented to city council members and county commissioners this week that would revamp the Pinch District, Mud Island, the Riverfront and more areas surrounding St. Jude Children's Research Hospital.
St. Jude and ALSAC currently have a multi-billion dollar expansion plan underway and recent grants from the state.
"Obviously, they not only provide employment, but great research and a lot of services to children," said Governor Bill Haslam in regards to the recent $12 million from the state.
However, St. Jude can`t stand on its own.
"If you're traveling from the St. Jude campus to the Ronald McDonald House and then from the Ronald McDonald House to Methodist Le Bonheur, you will see blighted homes, vacant and abandoned structures," said Sarah Hall with St. Jude fundraising.
They're now looking to clean up those areas under the Bicentennial Gateway Project.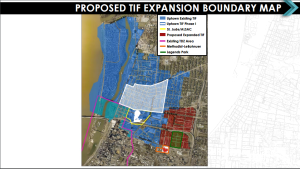 They want to revitalize the areas surrounding St. Jude for the patients, workers and families. They`re applying to expand the TIF in place, which is a zone that benefits from property taxes.
They`re hoping to expand the TIF to the Carnes neighborhood, adding into the current improvement plan of Uptown.
They'll clean up the blight in the neighborhoods and remodel/build new housing.
"I think it's critically important," said Rick Shadyac, CEO of ALSAC. "The safety of our patients [and] the safety of our staff is just so important to us and we want to insure that."
The plan also contains the Convention Center, Bass Pro Pyramid and Pinch District.
"I'm excited about all of it," said Paul Young, director of Memphis Housing & Development. "I think it's just such a significant opportunity for us to take investments we're already making and do it in a smarter way."
The improvements to those areas will be funded by money from the sales tax or tourism development zone funds (TDZ) and now community leaders are asking the state if Mud Island and the Riverfront can be added to the list as well.
"We want to roll it all up into one major initiative for this community," said Young.
Some of the goals include remodeling the Convention Center and turning Mud Island into more of an attraction, with water or fire displays.
They also want to do more with the Riverfront as a gathering place.
"We see it being very holistic," said Young. "It's focused on tourism, is focused on community development, jobs, all of the things that make our city and county and state vibrant."
The city has held multiple public meetings to come up with a vision for the Pinch District to feel more like an extension of downtown while being a lure for visitors.
Young said they`ve committed $12 million to the Pinch from TDZ, which comes from money generated by the sales tax.
"It's my sincere desire that the Pinch District will be a great place to live, work and play," said Shadyac.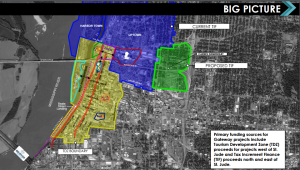 The goal is to keep the area's historic culture while vamping it up with shops and making it more connected to nearby neighborhoods, including St. Jude, which owns about half of the land in the Pinch and is part of the vision ahead.
"St. Jude Children's Research Hospital thrives because it's in Memphis, Tennessee," said Shadyac.
The trolley is also expected to be back up and running within a year or two.
The plans have been presented to both council and commissioners with an application in the works to expand some of the funding. Then pieces of it will go back to council and commissioners for approval.
"Do it in a way where we take this community to the next level," said Young.
For a full look at what was presented, go here.