This is an archived article and the information in the article may be outdated. Please look at the time stamp on the story to see when it was last updated.
MEMPHIS, Tenn. -- Every year, about 3,500 babies in the US die in sleep-related accidents, often related to blankets or toys blocking the oxygen flow.
Now doctors say a new crib design - made of cardboard - may help lower infant mortality.
Dolores Peterson is one of the first people to pick up a free box for her baby in Camden, New Jersey.
"I thought she'd scream but she didn't, she liked it."
Inside the boxes was a firm mattress, a fitted sheet and the kind of clean, uncluttered environment that doctors recommend for safe sleep.
"The box ain't nothing special but it's somewhere for her to sleep where she won't get SIDS or get hurt.
Because you can have her in your bed and just roll over and that's it."
SIDS is Sudden Infant Death Syndrome, a major reason why the US is way behind other countries in infant mortality -- ranking 26th in the most recent study.
At the top of the list is Finland, a country that's been giving out baby boxes for nearly 80 years. The babies can sleep in those boxes until they can pull themselves up when they're about six months old.
"I read the same article that millions of people did, all around the world, called "Why do Finnish babies sleep in boxes?" said Jennifer Clary, the CEO of Baby Box Company. 
Clary sells the basic box online for about $70.
"Not one parent receives one of our baby boxes without having received copious safe sleep education."
With money from the CDC and corporate donors, more than a million mothers nationwide will have access to a baby box this year, Clary said.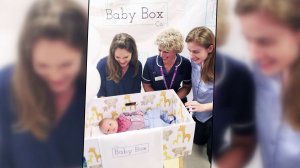 New Jersey's effort is by far the most ambitious, providing every mother a box plus supplies worth about $150.
Kathryn McCannis is chair of the New Jersey Child Fatality and Near Fatality Review Board, which runs the program.
"We have to change everyone's behavior so that no child is left at risk."
Thanks to her baby box, Delores Peterson is already resting easier.
"When you stop and think about what it's really good for, we wanted a box."
To get a box, parents have to watch a short series of videos and taken an online quiz. About 3800 parents did so.