This is an archived article and the information in the article may be outdated. Please look at the time stamp on the story to see when it was last updated.
MEMPHIS, Tenn. — As many continue to mourn two ladies are reminiscing on the memories they shared with the Queen of Soul before she took off to stardom.
Aretha Franklin was born inside of a home on Lucy and later moved to Detroit.
She grew up with friends here in Memphis and one Memphis woman even claims she's the original Aretha.
Aretha Shaffer says her grandmother sang in the choir at Aretha's father's church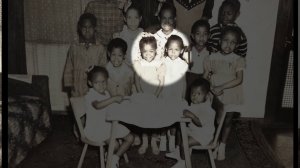 This photo shows Aretha L. Shaffer on the right and next to her, Aretha L. Franklin.
That's how the two came to share the same name.
"She said if I have a little girl. I will name her Aretha because I like the rhythm in that name," Shaffer said.
Shaffer claims that's what Aretha's mother told her grandmother in passing, turns out she wasn't kidding.
"She liked my name, she heard my name," Shaffer said.
Shaffer is only three years older than Franklin.
In a picture at a 1940s birthday party, Aretha is all smiles as the two are side by side.
Over at the table sits the guest of honor, the birthday girl, little Rosalind Williams-Foster.
"She was one of our little playmates and our friend," Shaffer said.
Williams Foster knew Franklin before the fame.
"This was the friends we played with, socialized within the Foote Homes," Foster said.
She's holding on to the memories of park play and birthday parties.
"We always got together. As a matter of fact, the families are so intertwined her uncle Jasper Willie Williams II is doing the eulogy for Franklin," Foster said.
Williams Foster says she'll be passing on this little memento from her childhood birthday onto her grandchildren.
It's proof that she and the Queen of Soul started a life together.
"I have three grandchildren and they will be able to say my grandmother knew Aretha Franklin," Foster said.
Aretha Franklin will be laid to rest Friday at 10 a.m.