This is an archived article and the information in the article may be outdated. Please look at the time stamp on the story to see when it was last updated.
MEMPHIS, Tenn. -- Thousands of students and their supporters hit the streets downtown Saturday demanding stricter gun legislation.
The March for our Lives was part of a nationwide movement started after 17 students and staff members were massacred at a Parkland, Florida school last month.
The rally shut down much of the downtown area for hours Saturday morning, as protestors marched from Clayborn Temple to the National Civil Rights Museum.
Marchers carried signs reading "My Outrage Can't Fit on This Sign," "Not One More," and "Books not bullets," and chanting "No more silence, end gun violence!" and "Enough is enough!"
"Let Us Live" #MarchForOurLives @3onyourside pic.twitter.com/Dr18H0TQwK

— Nina Harrelson (@NinaHarrelsonTV) March 24, 2018
"Just to know that at any time, I could be next, my sister, anyone in my school, is just not ok," said high school student and organizer Hali Smith with Students Demand Action.
If their signs didn't make it clear they've had enough, their impassioned pleas for change certainly did.
"We're trying to save lives," said Katy Spurlock with Moms Demand Gun Sense in America. "This group believes in the second amendment, but you have to have some regulation of weapons in this country."
Even educators joined in.
"Kids should not have to worry about, 'Will I make it out of school alive or not?'" said Stephanie Gatewood, an administrator at Sharpe Elementary School.
She echoed the sentiments many teachers have already voiced -- that they shouldn't have to be responsible for protecting the lives of the children in their classrooms.
"Teachers want to teach," she said. "They don't want to have to be the security guards."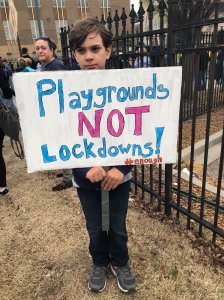 Once marchers reached the National Civil Rights Museum, children and teens gave powerful speeches about their experiences with gun violence.
One little boy shared a story about his sister who was killed in a shooting.
"Me and my family miss her very much. Whoever killed her should be ashamed of themselves," he said.
Several people in the crowd were moved to tears by the speeches.
And while change may not happen overnight, these kids say they're not going anywhere.
"It's our sisters, our brothers, our mothers, our fathers that are being killed in these streets. So how don't we have a voice on something that affects us so greatly?" Smith said.
Several Memphis schools are also planning walkouts on April 20 as part of a nationwide Day of Action.