This is an archived article and the information in the article may be outdated. Please look at the time stamp on the story to see when it was last updated.
MEMPHIS, Tenn. -- A man trying to break up a fight between teens in Midtown ends up getting attacked by them.
Four juveniles, between 15 and 17 years old, received summons for inciting a riot and aggravated assault
Marvin Davis said he was trying to catch the bus when he saw a group of teens fighting right outside a B.P. Gas Station at Cleveland and Poplar.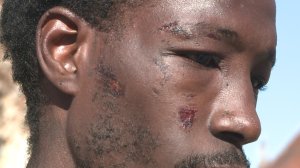 He tried to break it up.
"Some of the ones who wanted to see the fight, they the ones who came behind me and started hitting behind my head," he told WREG.
Davis said more teens showed up Wednesday afternoon. Too many to fight off.
He eventually fell to the ground and hit his head, but said that still didn't stop them.
"They hit me and kicked me on the side of my head and my face," said Davis.
He went to the hospital.
"They had to clean me up and stitch my eyes up. Then they wiped everything up," he said.
A security guard at a nearby business told WREG he witnessed it all and said the teens came from Northwest Prep.
"The man tried to break it up, and they jumped on him," said Robert Bean. "I saw about maybe 50 coming through here running."
Davis' story is similar to those we've told you about in the past.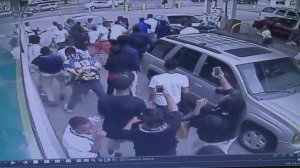 In April 2015, security cameras caught a mob of teens outside the same B.P. attacking a man who was just escorting a frightened woman to her car.
"They don't got no guidance. They don't got nobody to watch them," said Davis.
Davis said that's why he got involved. He hoped he could be a good role model.
Instead, he was left with cuts, scrapes and stitches.
Shelby County Schools said they do have security on campus at Northwest Prep and MPD provides extra support.