This is an archived article and the information in the article may be outdated. Please look at the time stamp on the story to see when it was last updated.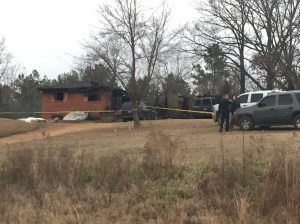 MARSHALL COUNTY, Miss — A family is mourning three children killed in an early morning house fire in Byhalia.
The fire started around 2 Saturday morning in the 900 block of French Road.
By the time fire crews arrived, the house was already engulfed.
Annette Tate and her three young grandchildren, 2-year-old Tylnn, 1-year-old Abel, and 8-month-old Mickayla, were inside the house.
Tate said she woke up to the smoke and tried desperately to get to the children. "I heard my grandbaby holler out," she said. "I began to go check on my 2-year-old. I couldn`t get in there. It was so smoked up."
Tate ran outside for help.
Family members, who live in the same neighborhood, tried to knock down doors, but the flames and smoke pushed them back.
Erwin Tunstall the children`s uncle, was left in shock after losing his young nieces and nephews just two days after Christmas. "My brothers, they tried to go in and get them out, but the fire wouldn`t let them go in to get them," he said.
Crews are still working to determine how the fire started.
Family members think a fireplace in the home may be the cause, but said it really does not matter now. It won`t bring their three little angels back. "There was nothing I could do," Tate said, staring blankly at the house. "I tried…"
A family friend has set up a GoFundMe account for the family to help them. If you want to donate, the link is http://www.gofundme.com/jcuwa8.