This is an archived article and the information in the article may be outdated. Please look at the time stamp on the story to see when it was last updated.
MEMPHIS, Tenn. — Spring is here which means it's festival season.
Here is a list of festivals you should know about:
Enjoy eating tons of crawfish, listening to live bands and do some shopping in the vendor market. There will also be a kids area making a family adventure.
Admission is free.
The popular country-rock band Lucero will be hosting a block party outside of Minglewood Hall. The event will be held rain or shine.
There will be food and fun, band vendors, and tattoos. The lineup includes artist like John Moreland, Louise Page, The Mighty Souls Brass Band and more.
Admission is $30 to $35. Kids under 10 are free with parents.
The 9th Annual Memphis Brewfest celebrates some of the finest beers in the world. Beers, breweries and beer enthusiasts from the region will gather near the banks of the Mississippi River for a sampling of fresh beers. The net proceeds will benefit Parent Project Muscular Dystrophy.
In addition to over 17,000 pounds of crawfish, the event hosts a variety of vendors selling food, drinks, art and more. The Rajun Cajun Crawfish Festival is the largest one-day Crawfish Festival outside of Louisiana. The Riverfront Development Corporation is hosting the festival again this year. No pets, coolers, tents, handouts, or parking inside the festival area.
Admission is free.
Celebrate some hearty food and distilled spirits at the Memphis Flyer's third annual Bacon & Bourbon Festival at the Memphis Farmers Market. The festival will be bringing together a variety of Memphis' best restaurants and an array of distilled spirits brands as you enjoy some bacon, barbecue and bourbon.
Admission is $41.61 with fees. The ticket price includes 15 bourbon tastings, tasty pork dishes from a variety of local restaurants, fun music and party activities.  The Bacon & Bourbon benefits the Memphis Farmers Market.
The 7th annual Shelby Forest Spring Fest will be held in the old UA Moore Ballpark at Shelby Forrest State Park where there will be a steak competition, live music, food, arts and crafts vendors. It will also include wildlife and cultural exhibits, and a corn hole tournament.
Admission is $3 and kids under the age of four are free. You can bring lawn chairs and your dog as long as it is leashed. No coolers, outside food or beverages, or illegal substances are allowed.
The festival focuses on bringing African dignitaries, ambassadors, and culture to the Memphis Community on an annual basis. The Festival will showcase African countries from an international perspective by showcasing education, economics, culture, fashions, arts/crafts, music, history, and cuisines.
Admission is $5.
The Binghampton Development Corporation at Wiseacre  Brewery to host the over 17 different nations found in the small city, making it one of the most multi-cultural neighborhoods in Memphis. Pets, on a leash, are welcome and the event's vendors feature multicultural chefs from the Binghampton neighborhood. Enjoy top-quality and uniquely flavorful Wiseacre beers specifically paired with your food choices.
There will also be a variety of music performances by Mama Africa Dance Group and more.
Memphis Made Brewing Co. will be hosting their 4th annual Hopped Up Festival with live music from multiple bands. They have also announced that they will be releasing a special one-off beer every hour until close. The first 50 customers will receive a free Hopped glass. In addition to the nine specialties, they'll be releasing a Breakfast IPA called Snap Crackle Hopped.
Established in 2003 by a local Memphian who felt that the South had more to offer than just amazingly great barbecue, the Southern Hot Wing festival has become a staple event each April. Happening at Tiger Lane this year, the Hot Wing Festival will feature a wing cooking contest, wing eating contest, live bands, silent auction, free kids corner, a cornhole contest and more. All to benefit the Ronald McDonald House Charities of Memphis.
Admission is $20 at the door and $15 online. Children under the age of 12 are free.  For the Hot Wing lovers, they have a $125 VIP tent that includes an open bar, music, and catered by Jack Pertle's
Celebrate Earth Day with Shelby Farms Park during the Down to Earth Festival where you can enjoy outdoor adventure, eco-friendly exhibitors, the Go Ape Treetop Ropes Course, live music, food trucks and more. All proceeds help keep Shelby Farms Park and Shelby Farms Greenline stay clean and safe.
Admission is free.
The 8th annual Memphis Area Authors' Festival will feature the theme "Open Access to All." Keynotes include: Michael Baisden, Nationally renowned radio personality, author of "Raise Your Hand if You Have Issues" and host of The Michael Baisden Show, and more.
Activities for all ages include 50 local authors & authors scavenger hunt, Striking Voices Exhibit at Goodwyn Gallery, Local choirs and dance performances, live music, food trucks, face painting, balloon artist, bilingual story times, arts and crafts, CLOUD901 teen adventures and more.

Admission free.
The annual Arlington in April Festival will be 10 a.m. to 4 p.m. in the town's historic Depot Square. Vendors from around the Mid-South will display handmade crafts and boutique items. Other attractions include live music and entertainment, carnival-style food vendors, kids' activities, and more.
Admission is free.
May
The Memphis Greek Festival is celebrating their 60th anniversary.
This two-day annual Greek Festival offers a unique opportunity to enjoy traditional food and marketplace items, sanctuary tours, live Greek music and traditional Greek dancing. Free Greek dance lessons are available.
Advance tickets include a Greek meal and are available at the Annunciation Greek Orthodox Church and other locations.
Admission is $3 for adults, $1 for kids ages 6 to 11 and free for kids 5 and under.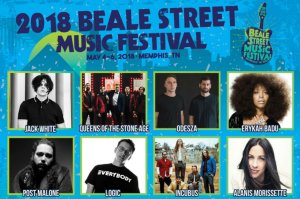 Beale Street Music Festival returns for another jam-packed three days of music.
Read the full lineup here: Memphis In May releases Beale Street Music Festival lineup
Tickets start at $125 and go up to $595 for VIP
Join the Memphis Rotary Club when they host their annual New Orleans-style party to help raise money for the Dorothy Day House of Hospitality. Shrimp and grits, cafe au lait, beignets, mimosas, and more.
The event will take place at Tiger Lane from 10 a.m. to 1 p.m.
Admission is $10 for beignets and $20 for a full plate.
Taking place at the Hi-Tone Cafe, GRRL Fest is about celebrating women within the Memphis community. Each band that plays will have at least one member that identifies as a female. The event is also a benefit show for the Southern Girls Rock Camp that is held in Nashville. Check out the lineup here.
Admission is $15.
Brinson's Downtown Chicken Lounge Local Music Festival is free to the public. Enjoy beer, food, and local artists all day long.
It'll be held at Downtown Elementary School and is planning a Memphis focused music lineup.
Admission is free.
The World Championship Barbecue Cooking Contest attracts hundreds of guests every year who come to celebrate all things barbecue.
Teams grill and smoke to compete for a chance at winning over $110,000 in prizes and bragging rights. Aside from the competition itself, guests can witness the popular Ms. Piggie Idol, a singing contest where participants can show off their vocal talents.
Admission is from $4 to $595 for VIP passes.
The Social Exchange presents their first April music festival with art for sale, food, games, and a long list of musical acts.
Artists like Tiger Lake, Fish n Chips, and more will be in their lineup.
Admission is free, but suggested donation of $10 is encouraged.
The Zombie Walk is fun for everyone, and also benefits the Memphis Food Bank. For those looking to go all out but do not have the supplies, makeup and staging artists will be in Handy Park starting at 3:30 pm.
Bring a canned food item to donate to the Memphis Food Bank.
This third annual celebration focuses on all things local.
This festival will include local performers on multiple stages, locals artists, local vendors, local food and beverages and local merchants. An airshow will take place as well as a fireworks show over the Mississippi River.
Admission is $9.
Head out to Covington's 46th annual BBQ fest to enjoy great food, a cornhole tournament, an aircraft flyover, and other various live entertainment.
Admission is free.
Enjoy a little taste of Italy right here in Memphis. The Memphis Italian Festival demonstrates the values of family, faith and fellowship in the Italian-American tradition.
The festival presents family-oriented fun in music, food, events, games, and more for the benefit of the children of Holy Rosary Parish School.
Admission is $8 dollars for the first day and then ranges from $10 to $15.