This is an archived article and the information in the article may be outdated. Please look at the time stamp on the story to see when it was last updated.
Mobile users click here for live coverage
LAS VEGAS, Nev. — At least 58 people were killed and more than 500 injured Sunday night after a gunman opened fire from high-a top a casino on the Route 91 Harvest Country Music Festival below.
Clark County officials said an estimated 406 people were taken to nearby hospitals following the incident.
The deceased shooter has been identified as Las Vegas resident Stephen Paddock, CBS News reported.
"Through investigation and response we determined there was a shooter on the 32nd floor of the Mandalay Bay. Officers responded to that location and engaged the suspect at that location. He is dead."
According to CNN, Paddock, 64, is from Mesquite, Nevada. Police said the gunman, who had been staying at the hotel since September 28, killed himself before police made entry into his hotel room on the 32nd floor of the Mandalay Bay Resort and Casino. Authorities said Paddock had  a number of weapons and  was apparently targeting a crowd of 30,000 people attending the music festival below.
"I was able to debrief a couple of the SWAT officers that went in there and all I can really tell you is that there's a number of long rifles that are in that room but the actual number I really can't provide that to you just yet. Yeah I would say there was at least eight guns up there," said Kevin McMahill with the Las Vegas Police Department.
The Mesquite Police Department had no prior contact with him, according to spokesman Quinn Averett, nor had there been any calls to Paddock's home in Mesquite. Officials did not know how long he had been living in the area.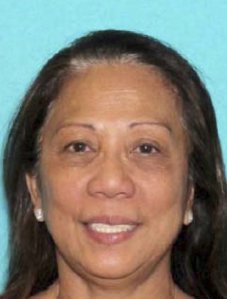 Early Monday morning, Mesquite Police Chief Troy Tanner said police surrounded and entered that single-family home where the suspect lived with 62-year-old Marilou Danley.  He said Danley was not at the house and police saw "no movement" inside before serving a search warrant at the one-story, three-bedroom home in the Sun City Mesquite retirement community, about 80 miles north of Las Vegas.
Danley was initially wanted for questioning by Las Vegas police, but officers said they do not believe she was involved. Danley was reportedly out of the country and not with Paddock when he used her identification.
WREG has learned Danley used to live in the Memphis area. Records list several addresses in the area in the 1990s.
The FBI says the shooter had no connection to an international terrorist group.
The announcement from Special Agent in Charge Aaron Rouse at a news conference Monday comes after the Islamic State group claimed responsibility for the attack without providing evidence.
The extremist group claimed that the shooter was "a soldier" who had converted to Islam months ago. It has made exaggerated or false claims in the past.
Festival turns into massacre
The massacre started around 10:08 p.m. Sunday at the Route 91 Harvest festival, Lombardo said.
Police don't believe there are any more shooters. "Right now, we believe it's a sole actor, a lone-wolf-type actor," the sheriff said.
Two Las Vegas police officers are being treated at a local hospital for injuries they sustained during the shooting, Lombardo said. One is in critical condition, and the other sustained minor injuries.
In addition, the sheriff stated that there were off-duty officers attending the concert who may have died. The identities of those officers have not been released.
"Pray for Las Vegas," the city's mayor, Carolyn Goodman, tweeted. "Thank you to all our first responders out there now."
Nevada Gov. Brian Sandoval said on Twitter that a "tragic & heinous act of violence has shaken the #Nevada family" and offered prayers to all those affected by "this act of cowardice."
Aldean posted a statement on Instagram saying that he and his crew were safe.
"My Thoughts and prayers go out to everyone involved tonight. It hurts my heart that this would happen to anyone who was just coming out to enjoy what should have been a fun night. #heartbroken#stopthehate," he wrote.
'We just ran for our lives'
Aldean, his wife Brittany, his band and crew were able to get offstage safely and unharmed. But fans described chaos after the barrage of bullets.
Rachel De Kerf filmed her escape from the venue using her cell phone, starting just after the first shots were fired.
She described ongoing gunfire, and played out the video she had recorded during which more than five minutes of gunfire were intermittently audible.
"The gunshots lasted for 10-15 minutes. It didn't stop," she said. "We just ran for our lives."
De Kerf's sister, Monique Dumas, said that everyone instantly crouched when they heard the shots.
"The band was rushed off the stage, the floodlights came on the crowd, and you see on the right hand of the stage the person who was injured, so they're calling for medics, calling for security, then there was gunfire again," Dumas said.
'Go, go, go'
"It seemed there was a pause in the gunfire and the people in the yellow shirts were telling the people to 'go, go, go, go' … the gunfire never ended, it seemed like it went on and on and on," Dumas said.
SiriusXM Country radio host Storme Warren was on the side of the stage as Aldean was performing when the shots rang out.
"I thought it was fireworks going off and maybe it mistriggered, and then it happened again. And when it happened the third time, we knew something was wrong," Warren said.
Warren said he heard "more than 50 shots fired and probably in the hundreds."
"The shells were hitting the deck of the stage when I was on it," he said, adding that he could still hear the shells as he went under the stage for protection.
A concertgoer told CNN affiliate KLAS that everybody was lying on top of each other trying to get out of the shooter's way.
"Everybody's hiding everywhere, they're hiding under the bleachers and the stanchions, anywhere they could and everyone is telling us to 'run, run as fast as you can,'" she told KLAS.
"And my husband and I ran out toward our car, and there were people hiding underneath my car for cover and there was a gentleman who was shot and he said, 'Can you help me?' And so I put him in my car and I had like six people in my car, people without shoes, running, just to get away."
'Like shooting fish in a barrel'
Audio of the shooting suggested that the shooter had used a military-style weapon, CNN law enforcement analyst James Gagliano said.
"Automatic weapon(s) like that — had to be numbers of magazines or a very large drum, it sounded to me like a belt-fed weapon, a military-style weapon and then to be shooting down, to use the analogy, it was like shooting fish in a barrel in that space," Gagliano said.
MGM Resorts, which owns the Mandalay Bay, tweeted its condolences.
"Law enforcement and emergency personnel responded quickly to the incident a secured the scene," it said in a statement. "Law enforcement requested that we put hotels in the vicinity on lockdown to ensure guest safety. We will provide more information as it becomes available."
Facebook has set up a crisis response page to help people determine whether their loved ones are safe.