This is an archived article and the information in the article may be outdated. Please look at the time stamp on the story to see when it was last updated.
UPDATE 3/21 - We are happy to report 13-year-old Jamiria Murray is back with her family.
WEST MEMPHIS, Ark. -- "She been gone two weeks. It's too long."
Linda Murray is hoping her 13-year-old daughter Jamiria calls home.
"I know you are doing something you shouldn't be doing and at 13, you don't know what you have been doing," said Murray.
February 23rd was the last time she saw Jamiria at West Junior High School in West Memphis, Arkansas.
Students told authorities she left school with a man.
"It was a truck, a gray Cherokee Jeep had picked her up."
That wasn't the first time either.
"The first time she left with him was May 10th of last year. The second time was December 10th. Somebody she met on the internet," said Murray.
Her mom doesn't know the man believed to be in his 30's, but she has seen his text messages to Jamiria.
"When can he pick her up? He love her, talking about other women and sexual stuff," said Murray.
It has this mother fearing the worst.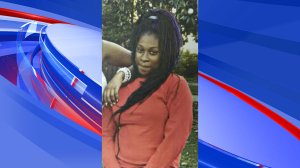 She told WREG Jamiria is a good student who loves art, but last March, things changed. She started having behavioral problems, running away and had to be treated for being bi-polar and paranoid schizophrenic .
She said she fears what her daughter has been pulled into.
"I think it is sex trafficking. I am being honest, I think it is sex trafficking."
West Memphis Police have not said this is a sex trafficking case, but have entered Jamiria in a nationwide database as missing. They are working with Memphis Police since the last two times Jamiria was found in Memphis.
"We make a lot of assumptions when we have to do these.We tend to assume the worse which is good. I think we should when we are in these situations. We try to bring the child home as fast as we can," said Captain Joe Baker with the West Memphis Police Department.
Her mom just hopes it's not too late.
"I understand she keeps running away, but she is 13 years old. Until you get the guy she is with, you ain't gonna get her."
West Memphis Police told WREG this case doesn't meet the criteria for an Amber Alert since there is no indication that Jamiria is in immediate danger. She left on her own will.
The man who took her could face charges if police find out who he is and that he is keeping her from her family.
Contact your local law enforcement if you know anything about Jamiria Murray.