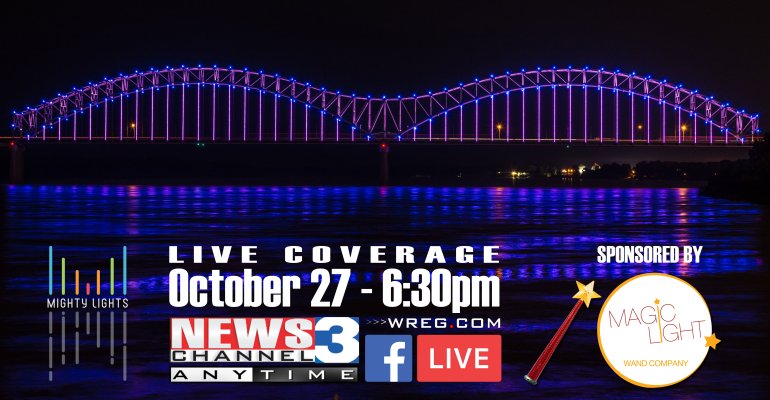 Since late 2016, spectacular LED lights have shown off the Harahan railroad bridge and the Big River Crossing over the Mississippi.  On October 27, the Hernando DeSoto Bridge joins the show with its own amazing array of lights producing millions of colors in a wide variety of animated shapes and designs.
River Arts Fest is on Riverside Drive on that day, with free admission after 5 p.m.  Ceremonies begin at 6:30 p.m. with the big reveal and light show at 7 p.m.  The Mid-South and the world is invited to see it happen.  You can watch from anywhere you can see both bridges.
If you can't make it there in person, you'll be able to watch it all happen on News Channel 3 Anytime (3.2 over the air, or channel 2 on Comcast), WREG.com, or Facebook.  Live coverage is brought to you by The Magic Light Wand, an enchanting remote control and receiver system used to turn on/off your decorative holiday lights with a magical touch… and sound!  As a Memphis company, Magic Light Wand is proud to help show the world Memphis' bright new riverfront.
You can also register HERE to win in our Mighty Lights contest.  First place prize is a light named in your honor (or someone you love) on the Hernando DeSoto Bridge, along with your very own Magic Light Wand so you can light up Christmas with a magic touch! We'll give several runners up their own  Magic Light Wand as well!