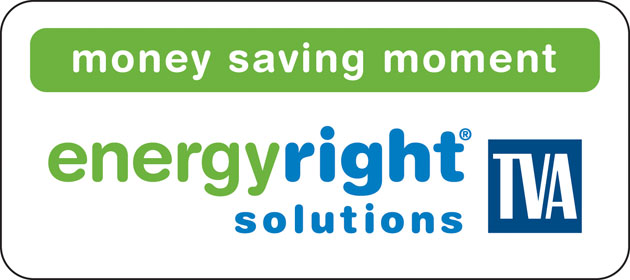 While you are doing your Spring Cleaning around the house, don't forget these simple tips to keep your home energy-efficient!
Change your air filter to keep your system running efficiently and not out undo strain on the equipment.
Get your air conditioning system tuned up before summer arrives.
Consider using ceiling fans to cool your home as the weather begins to get warmer.
Use compact fluorescent light bulbs because they give off less heat and won't warm your home as fast as other light bulbs.
Use the microwave whenever possible instead of your oven to keep your home cooler.
Want to save even more? Get a home energy evaluation and find out where you're losing energy. You can take a free one online at EnergyRight.com. You'll get a custom home report that'll help save you money, and an energy-saving kit worth over forty dollars. Or schedule a TVA-certified evaluator to perform one in your home for $150. You could qualify for up to $500 in cash rebates or possible low-interest financing. To find out more, visit EnergyRight.com .