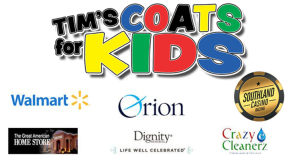 For over 30 years, WREG News Channel 3 has been collecting coats for children in the Mid-South.  With cooler weather quickly approaching, Tim's Coats for Kids campaign is underway once again for 2019, now through November 22.  You can help keep a child warm this winter by donating a new or gently used coat.
Walmart Donation Days
Nov. 6 –     Walmart on Winchester: 7525 Winchester Rd, Memphis, TN 38125
Nov. 15 –  Walmart in Cordova: 577 N Germantown Pkwy, Cordova, TN 38018
Nov. 19 –   Walmart in Bartlett:  8400 Highway 64 Bartlett, TN 38133
You can make that donation at any of our the participating sponsor locations listed below through November 22.
DONATION DROP OFF LOCATIONS – NOW THROUGH NOVEMBER 22
Great American Home Store
7171 Appling Farms
Memphis, TN 38133

Great American Home Store




5295 Pepper Chase Dr.




Southaven, MS 38671

Great American Sleep Shop
2075 N. Germantown Pkwy #101
Cordova, TN 38016
Great American Outlet
5258 Summer Avenue
Memphis, TN 38122

Great American Sleep Shop




5338 Goodman Road #101




Olive Branch, MS 38654


NO MORE DONATIONS ACCEPTED – FULL BIN PICKED UP – THANK YOU!
Southland Park Gaming & Racing
1550 N. Ingram Blvd.
West Memphis, AR 72301
Orion Federal Credit Union – Whitehaven Branch
3155 Millbranch
Memphis, TN 38116
Orion Federal Credit Union – Raleigh Branch
3118 Covington Pike
Memphis, TN 38128
Orion Federal Credit Union – American Way Branch
4805 American Way
Memphis, TN 38118
Orion Federal Credit Union – Midtown Branch
1975 Union Ave.
Memphis, TN 38104
Orion Federal Credit Union – Hacks Cross Branch
7960 Lowrance
Memphis, TN 38125
Orion Federal Credit Union – Collierville Branch
310 New Byhalia
Collierville, TN 38017
Orion Federal Credit Union – Germantown
335 S. Walnut Bend
Cordova, TN 38018
Orion Federal Credit Union – Kate Bond
7845 Highway 64
Memphis, TN 38133
Orion Federal Credit Union – Midtown
1975 Union Ave
Memphis, TN 38104
Orion Federal Credit Union – White Station Branch
641 S. White Station
Memphis, TN 38117
Memphis Funeral Home
5599 Poplar Avenue
Memphis, TN 38119
Memphis Funeral Home and Memorial Gardens
3700 N. Germantown Rd.
Bartlett, TN 38133
Brantley Funeral Home
6875 Cockrum Rd.
Olive Branch, MS 38654
Collierville Funeral Home
534 West Poplar Avenue
Collierville, TN 38017
Family Funeral Care
4925 Summer Avenue
Memphis, TN 38122
WREG News Channel 3
803 Channel 3 Drive
Memphis, TN 38103
Crazy Cleanerz
1400 N. Germantown Parkway
Cordova, TN 38016