Toyota's Century flagship sedan aimed at dignitaries and industry bigwigs has spawned an SUV body style for the first time.
Revealed on Wednesday, the SUV, which is simply called the Century, starts sales in Japan later this year with a price tag of 25 million yen (approximately $170,000).
Availability in other markets hasn't been announced, though there are rumors the SUV will be much more widely offered than the sedan, which is limited to Japan and a handful of other markets.
For the uninitiated, the Century is a big, boxy sedan that has spawned just three generations over a history dating back more than half a century. Its hallmarks include a powerful engine, acres of room, and the ultimate in Toyota build quality.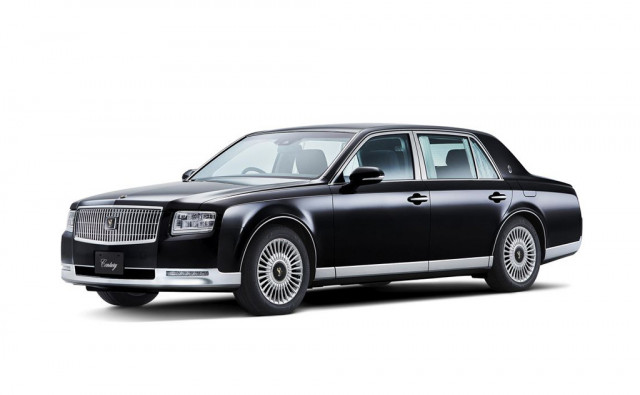 2018 Toyota Century
The same concept carries over to the SUV, which is as boxy as a Rolls-Royce Cullinan, measures 205 inches long, and features ample space for four. Also borrowed from the sedan is the unique handcrafted phoenix logo for the grille.
The interior design is kept simple but elevated. The driver is faced with a digital instrument cluster and a large infotainment screen, plus plenty of physical buttons both on the steering wheel and center stack. Instead of a rear bench like in the sedan, the SUV features two individual rear seats capable of reclining to an almost flat position.
Toyota doesn't hide the fact the SUV is aimed directly at the chauffeur-driven class. This is highlighted by the vehicle's Rear Comfort mode that assists the driver to ensure passengers in back aren't disturbed. For example, the mode assists with the braking control to suppress any jerky motion when the vehicle comes to a stop.
The sole powertrain on offer is a plug-in hybrid system with a 3.5-liter V-6. Drive is routed to all four wheels as standard. Toyota hasn't said how much power the Century SUV has. The automaker also hasn't disclosed how big the battery is but said the vehicle is designed for electric mode around town and hybrid mode for longer drives.
The platform is from Toyota's TNGA family of modular platforms and rear-wheel steering is included to aid maneuverability. Toyota also fits a rear bulkhead to separate the cabin from the cargo hold, with a noise-reducing glass window fitted to provide rearward visibility for the driver and a quiet ride for the passengers.
The curb weight is approximately 5,665 pounds, according to Toyota, which is expected for a large, luxurious SUV.
Related Articles