Thursday, August 25th, 2016

Despite some scattered showers and thunderstorms, temperatures are downright hot across many areas of the Mid South.  The Heat Advisory will continue until 7pm with heat index values in the 105-109 degree range.  This hot weather trend will continue into and beyond the weekend as well.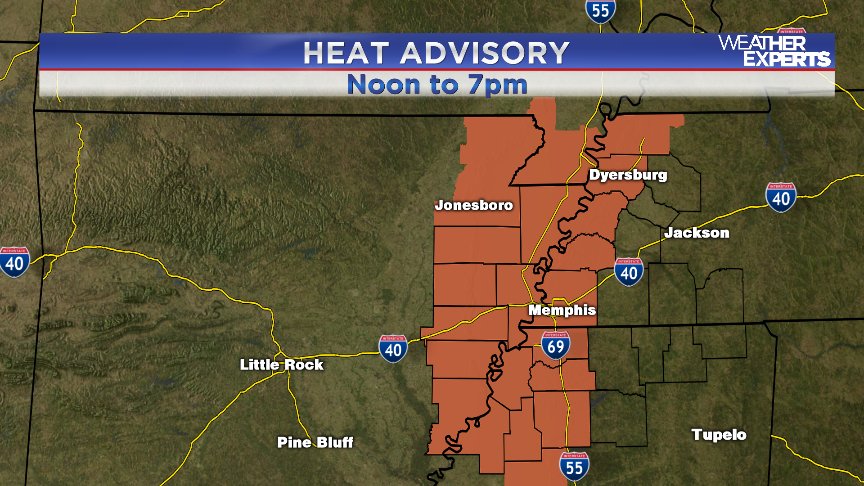 Tonight, a few early showers possible otherwise partly cloudy with a low of 77 degrees.  Southeast wind at 4-8 mph except strong and gusty in and around thunderstorms.
Friday, look for a mix of clouds and sunshine with scattered showers and thunderstorms.   Friday's high 92 with a heat index value around 103.  Chance of precipitation is 40%.  Friday night, partly cloudy skies are expected with a low of 76.
Saturday, partly cloudy skies with a few afternoon showers and thunderstorms.  Saturday's high 93 with a heat index of 102.  Chance of precipitation is 30%.  Overnight low Saturday 75 degrees.
Sunday will be mostly sunny with a high of 94.  An isolated shower or storm is possible.  Rain chance is 20%.  Overnight low 76.
Monday through Wednesday, partly cloudy, hot and humid each day with highs in the low 90s and overnight lows in the low to mid 70s.
In the tropics… GASTON has now achieved HURRICANE status but will likely stay in the Atlantic and pose little threat to the U.S. Mainland….
Invest 99-L is the tropical wave that is destined to become "Hermine" with a good chance of ending up in the Gulf of Mexico as a named tropical storm. There is a chance the Mid-South would feel the effects from this system, but it would be late next week, in the form of rain (Thursday/Friday)  We'll be watching it carefully.
(Hermine is currently known as an area of LOW pressure Invest 99-L)
Rainfall forecast models show the Southeast getting hit hard with heavy rain from this system.
  
---
THE WREG-TV NEWS CHANNEL 3 SEVERE WEATHER CENTER #WEATHEREXPERTS