Tuesday,  July 26th, 2016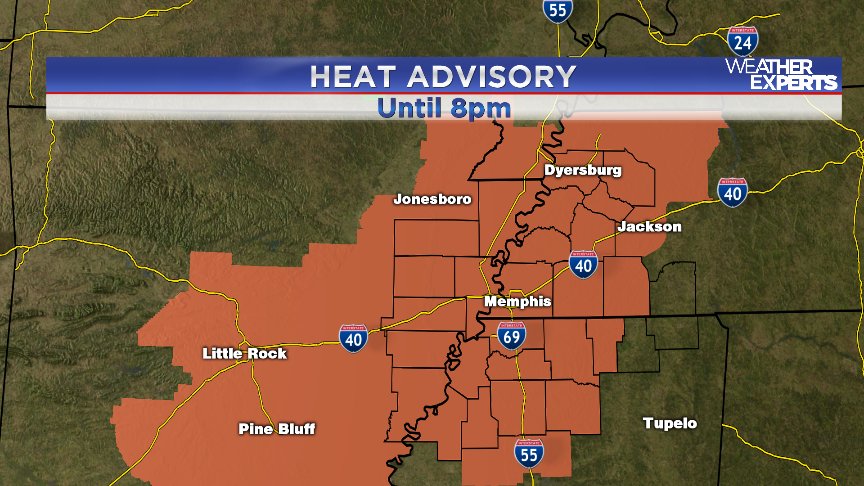 More hot weather on tap for this week but periodic showers and thunderstorms could provide some needed relief.  There are rain chances practically each day this week with slightly cooler temperatures expected by the end of the week.
Partly cloudy, hot and humid today with highs in the mid 90s, heat index values above 105 prompting today's heat advisory.
A 20% chance for showers to cool you back down.
A somewhat "wet" weather pattern will be shaping up for the rest of the week with increasing rain chances and afternoon highs falling into the mid and upper 80s.
While hot today, near heat advisory levels, rain will help cool us back down for the rest of the week, and into the weekend.
Afternoon highs will hold in the mid/upper 80s, with scattered to numerous showers becoming likely.  Slow moving storms that could produce localized flash flooding.
Here's the "5-day" rainfall accumulation forecast model.
---
WEATHEREXPERTS: INTERACTIVE RADAR HERE…
Click through here for WREG-TV News Channel 3's Interactive Radar page.
---
#WREG #WEATHEREXPERTS:  HEAT SAFETY
Heavy sweating
Weakness
Cold, pale, and clammy skin
Fast, weak pulse
Nausea or vomiting
Fainting

Move to a cooler location.
Lie down and loosen your clothing.
Apply cool, wet cloths to as much of your body as possible.
Sip water.
If you have vomited and it continues, seek medical attention immediately.

High body temperature (above 103°F)*
Hot, red, dry or moist skin
Rapid and strong pulse
Possible unconsciousness

Call 911 immediately — this is a medical emergency.
Move the person to a cooler environment.
Reduce the person's body temperature with cool cloths or even a bath.
Do NOT give fluids.
---
GO JIM GO 2016: TWO MONTHS AND COUNTING
Congratulations Jim and the entire Go Jim Go family for raising over $342,000 in 2015 for the children of Le Bonheur Children's Hospital. Thank you Mid-South for all of your generous donations. Keep it coming as we move through our $2 million year in 2016!
THE WREG-TV NEWS CHANNEL 3 SEVERE WEATHER CENTER