Friday, June 24th, 2016
*** HEAT ADVISORY TODAY  until 6pm ****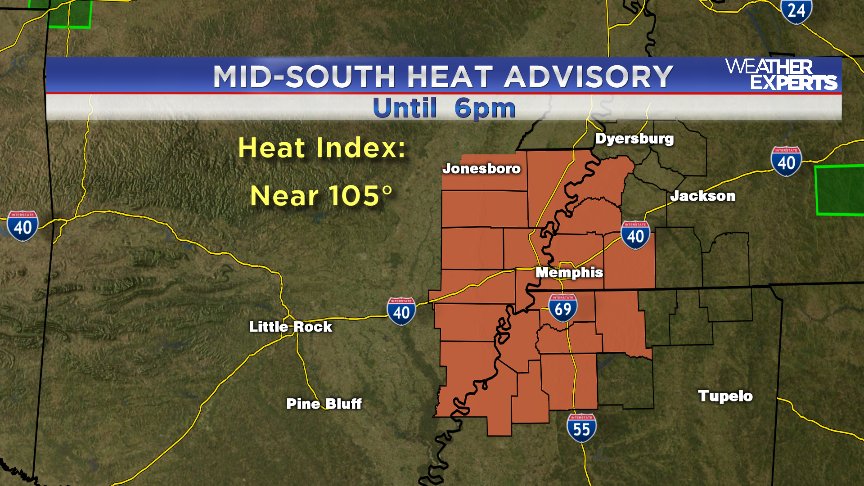 Partly sunny and continued hot with highs in the low 90s, but heat index values nearing 105 this afternoon.
Winds will be from the west and for the most part, light.
Partly cloudy overnight, mid and upper 70s by Daybreak.
We are back in the mid 90s for the weekend, with scattered showers.
No break from the heat over the next several days.
Highs in the 90s, lows in the 70s and only a few showers to try and cool you down.
A slightly better chance for rain to cool us down by the end of next week, and heading into NEXT weekend.  Until then, be careful out there!
The National Weather Service has issued a Heat Advisory, as expected, for the entire Mid-South until 8PM tonight. That means you should stay out of the heat and in an air-conditioned environment particularly during the hot parts of the day.  Drink lots of water and generally take it easy during this heat wave.  The hot temperatures can be particularly difficult for the very young and the very old, so please be care.
HEAT SAFETY
Via : 
Heavy sweating
Weakness
Cold, pale, and clammy skin
Fast, weak pulse
Nausea or vomiting
Fainting

Move to a cooler location.
Lie down and loosen your clothing.
Apply cool, wet cloths to as much of your body as possible.
Sip water.
If you have vomited and it continues, seek medical attention immediately.

High body temperature (above 103°F)*
Hot, red, dry or moist skin
Rapid and strong pulse
Possible unconsciousness

Call 911 immediately — this is a medical emergency.
Move the person to a cooler environment.
Reduce the person's body temperature with cool cloths or even a bath.
Do NOT give fluids.
---
THE WREG-TV NEWS CHANNEL 3 SEVERE WEATHER CENTER #WEATHEREXPERTS:
---