Do you trust auto shops? Most drivers don't
KNOXVILLE, Tenn. — With the weather getting colder being prepared for the worst is vital especially when it comes to your car. However, a recent AAA survey revealed two of three U.S. drivers don't trust auto repair shops.
Those who participated in the survey cited overcharges, recommendations of unnecessary services and poor past experiences for their lack of confidence.
"For most motorists their vehicle is their lifeline; which they depend on daily to operate safely on the road," said Stephanie Milani, Tennessee Public Affairs Director, AAA – The Auto Club Group. "Finding a reliable auto repair shop is important when you find yourself stranded on the side of the road."
To find a trustworthy auto repair shop, AAA suggests that drivers do their homework:
Look for a repair shop before issues occur. Ask family and friends for recommendations and visit AAA.com/autorepair to locate a AAA Approved Auto Repair facility near you.
Research potential repair shops and find out how long they have been in business. This can be a good indicator of shop quality. Also, look into how they deal with consumer complaints. The Better Business Bureau, State Department of Consumer Affairs or Attorney General's office can provide those complaints.
Visit the auto repair shop for a minor job such as an oil change or tire rotation. While waiting, talk with shop employees and inspect the shop's appearance, amenities, technician credentials, and parts and labor warranty. If you find the service to be good, stick with them. Build a relationship with the technician so they can get to know you and your vehicle.
Check for certification by the National Institute for Automotive Service Excellence (ASE).
If your vehicle is under warranty, you may be required to go to a dealership for warranty repairs. Routine maintenance may be performed anywhere.
Some repair facilities specialize in certain makes. Check to make sure they have the latest training and equipment needed to repair your vehicle.
With more and more cars being "connected cars" that have built-in diagnostic capabilities can alert drivers to vehicle trouble and help repair shops quickly and accurately address issues.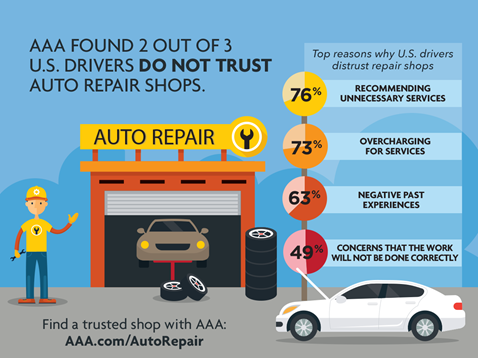 Unsurprisingly, AAA found that the majority of U.S. drivers want the ability to direct their vehicle's data to the repair shop of their choice. Due to concerns around data security.