CNN: ISIS planned for more operatives, targets during Paris attacks
Paris — The sophisticated ISIS network that plots foreign strikes had planned for the carnage in the November 2015 Paris attacks to be far worse, to occur in other European countries as well and, investigators believe, had planned to follow them up with strikes in several locations, CNN has learned.
CNN has obtained thousands of pages of documents and photos from internal European investigations and gathered information from sources close to the Paris investigation that together provide new details about the highly organized terror group intent on attacking overseas targets.
These documents reveal new information about two captured operatives who investigators believe intended to attack France.
They also point, chillingly, to the existence of another suspected terrorist — never before named publicly — who authorities claim is linked to the Paris terror cell and was on the loose in Europe for months after that attack.
That man, identified by authorities as Abid Tabaouni, was only arrested in July.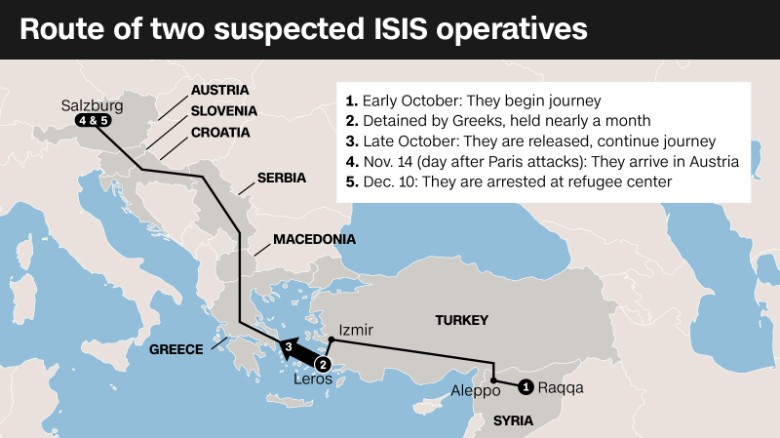 And the documents shed new light on the highly organized branch of ISIS devoted to plotting attacks inside Europe where, even now, sources told CNN, operatives await instructions from senior handlers in Syria.
"ISIS is increasing its international attack planning," said Paul Cruickshank, a CNN terrorism analyst who contributed to CNN's investigation and editor of CTC Sentinel, a publication issued by the Combating Terrorism Center at West Point. "It's increasingly sophisticated in the way it does this. It's set up an intricate, logistical support system for these terrorists … to launch these terrorist attacks."
A CNN team spent months going through 90,000 pages of documents, most of them in French, that included a trove of interrogations, investigative findings and data pulled from cell phones offering insight into the external operations wing of ISIS known as the Amn al-Kharji.
The documents show:
a fuller portrait of the suspected terrorists' extensive use of social media platforms such as Viber, Telegram and WhatsApp, many encrypted for secure communication. One app let them pick their own phone number, allowing them to disguise who was calling them and from where.
how ISIS handlers protect their missions by: giving operatives only as much information and money as they need to reach the next phase; contacting them on each leg of their journey; and insisting on pseudonyms, even within teams.
how the suspected terrorists constantly exchanged logistical advice with others in their network, including whether or not to use real names at border crossings and how to sneak across those borders illegally. One tip was to hide in train restrooms.
A senior European counter-terrorism official who spoke to CNN said that according to investigations into the network that carried out the Paris attacks, they were a slimmed-down version of an even more ambitious plan to hit Europe.
After interrogating suspects and gathering intelligence, European investigators now believe that ISIS initially planned for the operatives it sent last year to also attack the Netherlands, as well as other targets in France including shopping areas and possibly a supermarket in Paris, the official said.
In addition, recently obtained intelligence indicates that ISIS has stepped up efforts to infiltrate operatives into the UK to launch attacks there, an official told CNN.
The senior European counter-terrorism official told CNN that security services were "uncovering more and more ISIS operatives" on continental European soil. ISIS operatives dispatched back to Europe have taken advantage of encryption, especially the Telegram messenger app, to communicate securely, the official told CNN, frustrating European security services.
"Encrypted messaging groups have the potential to revolutionize terror plot planning by allowing entire cells to coordinate in real time without compromising themselves," said CNN terrorism analyst Paul Cruickshank.
Europe's security agencies have had important successes, though. One major breakthrough was the capture of two men who authorities believe intended to travel to France alongside the two suicide bombers who eventually blew themselves up outside a Paris stadium.